Bruce Willis – Corvette Convertible, Estimated $50K
Bruce Willis is a renowned American actor, producer and musician. He first appeared on TV in the hit series Moonlighting with Cybill Shepherd and then won roles in movies like Die Hard through hard work. This established him as a "tough guy" and a legendary performer. The talented actor also enjoyed moderate triumph as a recording singer, for the album Return of Bruno and as an enthusiastic producer for his movie The Crocodile Hunter: Collision Course. 
Success from his top grosser movies and numerous other projects established him as one of the richest Hollywood actors. He has a net worth of $150 million, and is a proud owner of lavish estates and luxurious cars worth millions. The Die Hard actor owns a 1957 Chevrolet Corvette Convertible, which he received as a gift from his ex-wife Demi Moore. The plush car was auctioned for an estimated price between $70,000-90,000 and was a real road beast in terms of incorporated features including a powerful 283cu-in engine boasting 220hp, influential front disc brakes, power steering, radial tires and Powerglide transmission.
John Travolta – Rolls-Royce Phantom, Estimated $410K
John Travolta has serious old school style when it comes to cars. He also really loves to fly and is one of the few celebrities that can boast about his pilot's licence. Besides the plane that he keeps at home, he has quite the collection of vehicles.
He has Ford Thunderbirds that are 1955, 1956 and 1957 versions, a Jaguar XJ6, a 1970 Mercedes-Benz 280SL, and a 2003 TVR Tuscan. Let's not forget one of his favorite cars which is a gorgeous Rolls-Royce Phantom which costs around $410K. But that's cheap change against his net worth which is just above $170 million.
Amber Rose – Pink Jeep Wrangler Unlimited, Estimated $150K
Amber Rose shows off her loud nature with her bold and wild pink Jeep Wrangler. Rose sure isn't one to shy away from embracing what she loves, and it seems she dearly loves pink! It's safe to say that this Jeep is one-of-a-kind. Amber Rose is a woman who is known for wanting to be noticed and for wanting to stick out like a sore thumb!
She even attended MTV's 2018 Video Music Awards donning a latex bodysuit, thigh-high boots, and a kitty mask—all in red! Of course, she is about being the center of attention, and there's no way she wouldn't be when she pulls out this Wrangler!
Dwayne "The Rock" Johnson – Pagani Huayra, Estimated $1.5 Million
Dwayne Johnson has a huge fan following from his days in wrestling through to his current career in acting. His films in 2018, which include Skyscraper and Rampage, were huge hits and they've been making him money to keep up his high-end lifestyle.
In 2019, he'll make even more dough with Fighting With My Family and Jumanji 3, among other productions. He is a car lover just like his character in The Fast and the Furious films and has a couple of impressive sets of wheels. His Pagani Huayra is pimped out and screams glitz and glamour! The car is valued at about $220 million from the manufacturer.
Akon – Spyker C8, Estimated $350K
Akon is still a star, although he hasn't been on the radar for some time now. He released his last album way back in 2008, his last mixtape in 2012, and his last single in 2016. We all know that celebs sometimes have a specific style. And when it comes to Akon, he loves white cars.
All the cars in his fleet are a crisp white, and it sure must be a sight to behold. When it comes to his rides, the Smack That singer has a Panamera, a Lamborghini Murcielago, and a prized $350K wicked Spyker C8 that he has had customized to his preferences. Of course, that's not all of them!
Missy Elliott – Lamborghini Diablo 3, Estimated $300K
Missy Elliott was practically born loving cars. Unfortunately for Elliot, she was a victim of car theft—and it was her beloved Lamborghini Diablo 3 that was stolen. Well, we wonder how they got away with it because it isn't every day you see a purple Diablo on the streets, so surely somebody would have spotted the vehicle!
Oh well, the Work It rapper had to say goodbye to those wheels. Missy's car collection is rather colorful and includes a vivid green Lamborghini Gallardo and even another one in a navy blue. We doubt Akon would approve of her fleet with all its color!
Tom Selleck – Porsche 928 S4, 5 Speed, Estimated $30K
Tom Selleck is what everything the '80s was about. Fast cars, girls, extravagance and even a Ferrari! Well that's what the show Magnum P.I. was about. It catapulted the star into a huge celebrity at the time and everyone knew he was.
He was tall, dark and handsome with a huge, typical, '80s mustache and even hawaiian shirts. It real life he also liked fast cars and drove a Porsche 928 S4 5 Speed back in the '80s which he purchased for all his cast memebers as well, apparently. Well, what can we say. He is obviously a very generous guy!
Lily Aldridge – Mercedes Benz, Estimated At $40,250
If we come to talk about the most beautiful and talented supermodels, Lily Aldridge is one of the first to come to our mind. Through her runway walks alone, she displays a sense of grace, style and elegance which only a few people can carry at the same time.
While her runway walks alone speaks volumes regarding her obvious and natural talent, another fact which makes it insanely prominent is how just a year after her first runway show for Victoria's Secret, she earned her wings and became a Victoria's Secret Angel. While the common brand that Lily Aldridge represents is of sophistication, she also is famous for appearing in numerous sports magazines like Sports Illustrated. Not only is she interested in sporty cars solely due to her job, but she also is a big fan of fancy cars.
Candice Swanepoel – Mercedes-Benz SLS Convertible, Estimated $135K
This beautiful model hails from sunny South Africa. She was discovered at the age of 15 in a flea market in South Africa. Absolutely gorgeous with blonde hair and blue eyes, she is a firm favorite at the elusive and exclusive Victoria Secret show.
She has two children with her partner Hermann Nicoli. Candice has a really stunning flashy car in red. It's a Mercedes-Benz SLS Convertible that sits at a neat $135,000. It's the perfect car to suit this "red-hot" model that still looks amazing at the age of 30.
Jurgen Klopp – Opel Insignia, Estimated $47,500K
Jurgen Klopp was born in Germany and is considred one of the best football managers in the world. He manages the Premier League club Liverpool. Klopp led Liverpool to the Champions League final in 2018. His life has been about football having played for most of his professional life.
Obviously he is very well known among the world of football and very respected. Interestingly, one would think that he would be seen driving a Lamborghini, Ferrari or Maserati. But, in fact, he drives a white Opel Insignia. Opel has a partnership with him and he looks more than happy driving around in his shiny car!
Nicolas Cage – 1958 Ferrari 250 GT Pininfarina, Estimated $3.6 Million
Actor Nicolas Cage is a well-known and true shopaholic. In fact, he has a wide range of yachts, bikes, jets, houses, and cars. Some rumors claim that he has around 50 vehicles and 30 bikes.
Another unofficial source stated that Cage suffered financially due to his impulsive decisions, which in turn made him sell almost everything from his haul of bikes and cars. Now, reports claim that he has about 10 left in his collection and we're quite certain that the 1958 Ferrari 250 GT Pininfarina is still one of it. In 2019, he is set to appear in eight films which include the documentary, Love, Antosha.
Sylvester Stallone – Mercedes-Benz G550, Estimated $166K
Sylvester Stallone gained international fame after portraying the role of Rocky Balboa in the Rocky films and John Rambo in the Rambo films. Stallone has managed to obtain numerous awards in the span of his career and rewards himself by purchasing luxurious vehicles and going on road trips.
After acquiring his Golden Globe award in 2016, Sylvester bought a $166K Mercedes-Benz G550 that can peak at 137 mph. At the age of 72, Sylvester doesn't seem like he's slowing down and will still appear in upcoming 2019 films like Escape Plan 3: Devil's Station and Rambo V: Last Blood.
George Clooney – Chevrolet Corvette V8 C1 Convertible, Estimated $1 Million
George Timothy Clooney is an American actor, film director, producer, and screenwriter. For his work as an actor, he has received two Golden Globe Awards and an Academy Award respectively. Clooney is also noted for his social activism and has served as one of the United Nations Messengers of Peace since January 31, 2008.
He gained fame and recognition by portraying Dr. Douglas "Doug" Ross on the long-running medical drama ER from 1994 to 1999. He won the 2006 Academy Award for Best Supporting Actor for his work in the Middle East thriller Syriana (2005). Like many actors of his caliber Clooney drives a luxurious car. His car of choice is the Chevrolet Corvette V8 C1 convertible. This classic car is a complete representation of the class and charisma that simply oozes out of him.
Justin Timberlake – '60s Vintage Pontiac GTO, Estimated, $65K
We all know and love the brilliant talent known as Justin Timberlake. However, what many do not know about the internationally famous singer and actor is that he started out in the Mickey Mouse Club alongside many other actors who are famous today like Ryan Gosling, Britney Spears and Christina Aguilera. Today, the actor and singer lives a luxurious lifestyle shared with his one true love, his wife Jessica Biel.
Living together in their luxury Manhattan apartment, Timberlake confesses that it is great. Moreover, the actor also has a great interest and fascination for luxury cars. His insane car collection includes some of the greatest cars on earth, including an Audi A8, a Jeep Wrangler, an Audi Q7, Lexus RX 350, Hummer H3, Audi S5 Cabriolet, Jeep Grand Cherokee SRT8 and a stunning 1960 vintage Pontiac GTO estimated at $65K.
Bradley Cooper – Mercedes-Benz G500, Estimated $220K
Bradley Cooper has been an A-list star for many years, but no one knew how absolutely talented he was until they saw him in his superb portrayal of Jackson Maine in A Star Is Born co-starring Lady Gaga. He also introduced his excellent singing voice to the world.
There is no doubt that Bradley is going to carry on making huge hits and keep on entertaining the world with his talent. People will certainly carry on going "gaga" over him! Bradley has quite the collection of cars and bikes including a Prius, $220,000 Mercedes SUV as well as three motorbikes.
Leonardo DiCaprio – Fisker Karma Hybrid, Estimated $135K
Leonardo DiCaprio has been a star since he was a child. He has been an actor for 4 decades already, nominated for an Oscar six times and finally won for his portrayal of Hugh Glass in The Revenant.
He is also a big name in the world for conservation and attempting to do whatever he can to save the planet. It is obvious that he has a keen sense for beauty as he dates the most beautiful women and models in the world. It is by no surprise that he drives a Toyota Prius, Fisker Karma Hybrid, Tesla Roadster as well as a Porsche Cayenne SUV.
Ryan Reynolds – Lamborghini Aventador Roadster, Estimated $440K
Ryan Rodney Reynolds is a Canadian-American actor, comedian, film producer, and screenwriter. In 2016, he starred as the title character in Deadpool. The film received critical and commercial acclaim and set numerous records at the time of its release for an R-rated comedy. For his performance, Reynolds received numerous accolades, including nominations for the Critics' Choice Movie Awards and the Golden Globe Awards. He reprised the role in Deadpool 2.
Reynolds was named People's Sexiest Man Alive in 2010 and was awarded a star on the Hollywood Walk of Fame in 2017. Reynolds along with his wife, Blake Lively is obsessed with collecting cars. They own a collection of 20 vehicles. The car collection is estimated to cost around $1 Million. Reynold's personal favorites are his blue vintage Nissan Leaf , Chevrolet Equinox and Lamborghini Aventador Roadster priced at an  impressive $440K.
Alanis Morisette – Jaguar XJ, Estimated $75K
Alanis Morisette gave us her raw emotions and heart in her first mainstream album titled Jagged Little Pill. Her voice is very unique and she comes with her owns style and alternative flair. She also was engaged to A-lister Ryan Reynolds.
We have also seen her on TV and in movies. She is real rock star and drives around in a classic Jaguar XJ in black. Its price is estimated at $75K and it looks very sleek. It certainly suits the more mature Alanis who is currently 44 years old, as of 2019.
Samuel L. Jackson – Maybach, Estimated $400K
Samuel. L. Jackson is that one actor you never forget. The whole movie could be a blur to you but he is that one character you will always remember. His net worth is around $150 million and counting. Even though Jackson is now climbing the steps towards old age he still has not lost his abundant amount of charisma and charm. Jackson's main ride is the Maybach 57 S.
The vehicle, unveiled at the Los Angeles Auto Show in 2006, is a classy ride. His choice of car can give you a glimpse into the kind of person he is. Jackson carefully deliberated about the kind of car he wanted and needed. Once he had decided there was no turning back. Most of his characters in his films also drive flashy, yet classy, cars which clearly showcases Samuels' personality as a whole.
Seal – Audi R8, Estimated at $164,900
This star is a 4 time Grammy winner, MTV Award winner, and 3 Brit awards winner. He is accomplished much in his life and continues to do so. His claim to fame was his composition of the soundtrack for the super hit 1995 movie Batman Forever, "Kiss From A Rose". He has sold around 20 to 30 million albums all over the world. He makes additional money by giving TV interviews.
Bizarrely his divorce from Heidi Klum has helped him financially by increasing his album sales & landing more lucrative TV interviews. Seal has led a very luxurious lifestyle so it goes without saying that he owns a very luxurious car as well. Seal is a proud owner of an Audi R8 and he is often spotted cruising in around the city in it. In his collection of cars Seal also has a Ferrari 360 Spider sports car, a Mercedez Benz as well as a Bentley Azure.
Rob Gronkowski – Mercedes-AMG S63, Estimated $153K
Rob Gronkowski is a big name in the NFL arena. He plays for the New England Patriots and is very popular among his fans. The New England Patriots has, after all, won 6 championships: 2002, 2004, 2005, 2015, 2017 and 2019.
Rob keeps its "old school" and likes driving around in a classy Mercedes-AMG S63 which is estimated at $153K. Instead of totally customizing the entire car as many stars do, he simply changed the number on the Mercedes to S87 – his jersey number. He is thriving in his career and fans are glad about it!
Denise Richards – Cadillac Escalade, Estimated $75K
Denise Richards has had quite the rollercoaster in Hollywood. She started off as a sex symbol starring opposite Neve Campbell in Wild Things (1998) and even starred in the James Bond film The World Is Not Enough (1999) as nuclear physicist Christmas Jones.
She is a very beautiful woman and married and had children with '80s star Charlie Sheen. They are divorced from each other. Denise has a very large car which is perfect for her 3 kids. It is a Cadillac Escalade which cost her $75K. It's big, black and beautiful! Denise is set to be part of The Real Housewives of Beverly Hills and we sure are excited to see how that will turn out!
Jenna Jameson – Dodge Viper, Estimated at $118,900
Jenna Jameson is a famous American adult entertainment actress as well as an entrepreneur who has been nicknamed as "The Queen" by the adult film industry. She drives around in a beautiful Dodge Viper and occasionally a Lamborghini. Her claim to fame came when she was awarded the top newcomer award by three major adult movie organizations.
She has won 20 to 30 adult video awards and has been bestowed with the X-rated critic's organization and Adult Video News, hall of fame. She did a voice over in the 2000 sitcom The Family Guy and later won an award for another voice-over for the video game Grand Theft Auto: Vice City. Jenna Jameson is one of the richest adult entertainment stars in the world.
Will Smith –  Maybach 57s, Estimated $367K
Will Smith is one of those people you can't help but love. He makes us laugh in any situation. He is just a really positive guy that is very inspiring. He is also an exquisite actor and an ex rapper who won the Grammy Award in 1988 for best Rap Performance (shared with DJ Jazzy Jeff) for "Parents Just Don't Understand."
So what does this alien fighter (Independence Day & MIB) and man who's exclaimed he's the world's greatest (Ali) drive? Well, he drives a gorgeous, sleek, black Maybach 57s. This particular car has a 5.5 liter twin-turbo V12 engine. It also accelerates from zero to sixty mph in only 5.5 seconds.
Matthew McConaughey – Lincoln MKX Luxury SUV, Estimated $70K
Matthew McConaughey is an actor beloved by the masses. He has been in the film industry for a long time even appearing way back when in movies such as 1993's Dazed and Confused and 1995's Boys On The Side. His performance in 2013's Dallas Buyers Club was magnificent and won him the Oscar.
Matthew has quite the collection of cars including a 1981 Camaro Z28, a GMC Yukon XL, a 1971 Corvette Convertible and others. It seems though, that his preferred car of choice is the Lincoln MKX. He is an ambassador for Lincoln, so it only makes sense that he drives one.
Renée Zellweger – Mercedes Benz E63, Estimated $88K
Award-winning actress Renée Zellweger is best known for her role in Bridget Jones' Diary as well as a number of other productions like Nurse Betty and Chicago. Being a familiar face means she's landed quite memorable roles in the industry, and that comes with good paychecks.
Her bank balance can likely afford her whatever car she likes, and Zellweger chose a Mercedes Benz E63. For a classic and simple ride, it sits with a not-so-friendly price tag of $88K! While it looks like a car that a chilled-out gal like Rene would like, don't let it fool you—it's built for speed as well!
Nicko McBrain β Jaguar XJ6, Estimated $42,800
Some celebrities are just an icon and they even come forward as an unofficial face for certain things. Nicko McBrain is best suited with these types of celebrities as one cannot simply talk about heavy metal music without remembering Nicko McBrain and his talent on the drums. Being a part of the iconic band, Iron Maiden, Nicko McBrain showed the world what true heavy metal drumming is like.
Despite their shrill sounds, McBrain carried with him a sense of grace when it came to drumming which never failed to leave the fans in awe of the raw talent displayed. In his personal life, Nicko McBrain is quite interested in cars β Jaugar specifically. He even got a Jaguar XJ6 custom-made by the top engineers in around 3,500 man hours with around 4000 parts replaced. The car is now famously known as βThe Greatest Hits.β
Kylie Minogue – Maserati GranTurismo, Estimated $134,625
The British-Australian singer and songwriter who is recognised as the highest selling Australian artist of all time by the Australian Recording Industry Association (ARIA) is none other than Kylie Ann Minogue. All those who have heard her music and her utterly divine voice know beyond a doubt that Kylie Minogue is one of the finest and the most talented singers to be alive and active in our lifetime.
A fascinating aspect about Kylie is her strong will to do what she loves and not let any force in the world stop her – not even a deadly disease such as breast cancer. After receiving all the treatment she needed, Minogue continued to produce brilliant works and was later even appointed as a judge for not only The Voice UK but also The Voice Australia.
Mickey Rourke – Bentley Continental GT, Estimated At $165,000
Not all journeys towards success are made on a smooth and straight road – some involve risky decisions and many rocky pathways. One of the hard but totally worth it hard path towards success is that of Mickey Rourke. After making the decision to retire from his boxing career in 1994, Mickey Rourke made the risky decision to dive head first into acquiring roles in big movies.
However, at first, he only managed to land small and quite insignificant roles which lead his career to remain on a standstill. However, after 2005, Mickey Rourke took the reins of his life in his own hands and graced the Television screens with quite new and iconic roles for which he is still recognised today. Mickey Rourke went on to maintain his own personal style regarding his image and he remains to be iconic.
Scarlett Johannson – Toyota Prius, Estimated around $28K
If you are a fan of the MCU, then you must know this star. She is the famed Black Widow, a valued member of the original Avengers. Scarlett Johansson, code name Black Widow is one of the most popular stars in Hollywood right now. It is all owed to her role in the Avengers franchise but that is not the only reason for her fame. Scarlett has appeared in many other genres of films which have made her famous over the years.
She is a much-beloved star and although there is a lot of fame to her name, Johansson still remembers her roots and is kind and humble to everyone she meets. Owing to her success in the acting life, Johansson has amassed quite a fortune which affords her the ability to live in style. This can be clearly seen by her beautiful BMW Z4, in which she is often spotted. Johansson is also a proud owner of a Toyota Prius as well as a Mercedes E class.
Floyd Mayweather – Koenigsegg CCXR Trevita, Estimated $4.8 Million
Floyd "Money" Mayweather is a legend in the world of boxing, and he will forever remain one. His vehicles are as legendary as he is, and it is only fitting for an icon to have a unique ride.
Mayweather walked into a dealership once and drove out with a $15 million vehicle! Money is no problem with this man, and his rare Koenigsegg CCXR Trevita, which is worth a dizzying $4.8 million, proves it. There are only two like it in the world, so maybe that contributes to its phenomenally high price.
Sharon Stone – Bentley Continental GTC – Estimated $200K
Sharon Stone has been around for decades. She started off as a Ford model but she had other plans for herself. She delved into acting with a fervor and starred in classics like Total Recall with Arnold Schwarzenneger, Basic Instinct opposite Michael Douglas and Casino opposite Robert De Niro.
For this gorgeous lady only a Bentley Continental GTC will do. Inside you will find a W12 engine with certain turbocharges which includes cylinder activation. It is black and sleek and set Sharon back a cool $200K. It is a very classy car that boasts a lot of power.
Prince Harry – Jaguar E-Type, Estimated $467K
People celebrated all over the world when Prince Harry married Meghan Markle. The prince was finally married – and to a lovely woman. Now, we have followed Prince Harry for years and know that he has a lot of class and style. It makes complete sense that he drives such a stunning car.
It really is something you would find in a James bond movie. It is a British sports car that was made between 1961 and 1975. It has a 241 km/h top speed and sub-7-second acceleration. It is a high performance car that is exceptionally beautiful.
Keith Urban – Bugatti Veyron, Estimated $2.7 Million
Keith Urban is a celebrity that falls into people's celeb favorites. He's a genuinely nice guy and he makes Nicole Kidman smile. He's also a very real person and has had his human struggles. He is a top country singer and sings all over the world. According to Forbes, he is also one of the highest-paid country artists in the world.
He obviously has good taste in vehicles as he drives a Bugatti Veyron that is white and sexy and very luxurious. Well, at a price tag of an estimated $2.7 million we should hope that this car is exceptionally luxurious and we are sure it is very fast too!
Richard Petty – Jeep Wrangler, $82,500
Richard Lee Petty used to be a NASCAR driver with a killer reputation. After all, he is nicknamed The King. He had a long run in NASCAR (1958-1992) and won many NASCAR competitions. Now Richard has driven some of the slickest cars that are simply stunning.
One of his favorite cars was a blue 2016 Jeep Wrangler that he auctioned for charity. It was a very special Jeep that was customized to Richard's specifications. It has off-road bumpers and tubular doors. Simply beautiful.
Jay Leno – McLaren P1, Estimated $1.5 Million
Jay Leno is an esteemed American comedian, writer and former talk show host of the famed Tonight Show. He is also a well-known car collector. He made his first foray into The Tonight Show in 1997 while also being a regular on a variety show alongside David Letterman. Over the years Leno took part in several films and T.V. series for minor roles.
People fell in love with his comedic flair and charisma, so NBC signed a contract with Leno, so that he would stay on till 2014, after which Jay Leno stepped down for Jimmy Fallon. This beloved talk show host has a collection of 286 vehicles out of which 169 are cars and the rest are motorcycles. The most expensive car in his collection is his McLaren P1 estimated at $1.5 million. He is also in possession of an EcoJet. He created this car by collaborating with GM. The EcoJet is priceless and one of a kind as there is truly no other car in the world quite like it.
Tyra Banks – Lexus SC430 Convertible, Estimated $35,996K
Tyra Banks is an American media personality, model, singer, actress and one of the original Victoria's Secret 'Angels' with a Net worth of $90 Million and a fascinating taste in cars which can be seen through her very own Lexus SC. Before fame, she completed her graduation from the Immaculate Heart High School, Los Angeles in the year 1991 and then moved on her the successful stint with the fashion world.
Tyra Banks is not only a successful model, media personality and producer actor but also holds the record for being one of the four African American women who have had the honor of being listed among the world's most influential people by the prestigious Time Magazine as well as one of People magazine's '50 Most Beautiful People'. An interesting spurt in her fame comes from her first fashion show in Europe where Tyra was so successful with her unconventional looks that she was booked for a record 25 shows at the 1991 Paris fashion week. Later, she went on to become one of the world's first successful supermodels who started their careers as early as the age of 15.
Jim Carrey – Mercedes Benz SL63, Estimated $152,850K
As we all know, no one could have ever dreamed of playing a better Ace Ventura other than Jim Carrey and he is rightfully known for it. However, the actor considers Dumb and Dumber to be his funniest movie to date. Today, through the paparazzi pictures, we can see Carrey driving one of the most magnificent cars – a Mercedes Benz SL63 which is estimated to be of $152,850.
However, what most people do not is that a few decades ago at age 15, Carrey was forced to quit school and work as a janitor in order to support his family after his father lost his job. Coming a long way since then, today Jim Carrey is one of the top comedic actors in the industry. A fascinating thing about the actor himself is that he refrains from letting his comedic roles become monotonous through his roles in non-comedic movies such as The Eternal Sunshine of The Spotless Mind.
James Corden – Range Rover Sport, Around $66K
James Corden is a really fun guy. He can sing, really knows how to talk to make an audience laugh – and is really good friends with David Beckham! He has a unique and special show called Celebrity Carpool Karaoke which attracts millions of viewers.
He has sung with the best (in his car) – Justin Bieber, Chris Martin, Ed Sheeran, Adele, Ariane Grande – even Madonna! Now James is quite a big guy and for him, his Range Rover Sport suits him just fine. It is estimated at around $66K and is sleek, shiny and gray. It's an SUV that is very luxurious and drives really well off road and gives James the power and speed he is looking for in a car.
Zac Efron – Audi S5 Coupe, Estimated $56K
Zac Efron skyrocketed in the world of show business when Disney's original movie, High School Musical became a worldwide phenomenon. The recently released Extremely Wicked, Shockingly Evil and Vile (2019) stars Zac as serial killer Ted Bundy. His performance is phenomenal.  In 2008, Zac Efron was listed amongst the top 100 celebrities with an estimated earnings of $5.8 million, which shows Zac's success at a very early age and since then his success has only increased.
An Audi S5 Coupe is this handsome hunk's choice when it comes to driving in style. The convertible comes included with a lot of comfort with its sports seats and use of hottest electronics. The coupe manages to make heads turn, but what happens when Zac Efron drives it? I am sure many girls out there get a mini heart attack seeing two heart-stealers on the road at the same time.
Kathy Bates – Toyota Land Cruiser, 
Estimated $85K
Kathy Bates is a seasoned actress in Hollywood and a favorite among many. She has been seen driving in many cars in movies. One of her most memorable car scenes is in 1991's Fried Green Tomatoes where two young girls steal her parking bay. They say, "face it lady. We're younger and faster." She reacts by slamming into their car and retorting, "Face it, girls. I'm older and I have more insurance."
As far as cars go, Kathy Bates likes her car big and sturdy. That's why she drives a shiny, black Toyota Land Cruiser. She could actually slam into many cars with that giant and cause a lot of harm. Luckily Kathy is a real sweetheart in real life. The Land Cruiser is estimated at $85K. The car has a 4.5 liters diesel engine. This creates 268 brake horse power and 650 Nm of torque. The engine drive is channeled to the 4 wheels via a 4-wheel drive system. We're sure she loves this black beauty!
Mary-Kate Olsen – 911 Porsche Carrera, Estimated $293,200K
Mary-Kate Olsen is best known alongside her twin sister, Ashley for their role as the adorable toddler Michelle Tanner in Full House. However, their career didn't end with the series, but in fact, the sisters went on to pick up many new, different projects individually as well as collectively, like introducing their own fashion line.
When thinking about two kids who grew up with cameras flashing in their faces, one would think that by now they would be well acquainted with social media, but, that is not the case with Mary-Kate as she prefers to stay away in order to keep her private life private. According to both of the sisters, all their lives they have had to fight the insane paparazzi. Therefore, choosing to keep away and control their privacy is comforting for them. However, every once in a while, the paparazzi will catch Mary-Kate driving to places (like the nail salon) in her magnificent 911 Porsche Carrera.
Colin Farrell – Cadillac Escalade Hybrid, Estimated $82.5K
Collin Farrell is an Irish actor first who came into prominence in 2000 with the war film, Tigerland (2000). The Boston Society of Film Critics awarded him with the Best Actor award for his role in that film. After Tigerland, his acting skills were tested to the hilt in Phone Booth, an extraordinary film from Joel Schumacher.
This Hollywood superstar, who quickly climbed the ladder of fame and won the hearts of many enjoys a spacious car as he owns a $82,500 priced Cadillac Escalade Hybrid 2012 edition. This robust SUV is fitted with a 6.0-liter V8 gasoline engine. The total power output is 379 horsepower. Some of the astounding exterior features of this robust SUV are backup camera and rear parking sensors, power retractable running boards, 22″ chrome wheels, and LED headlights. I mean, who wouldn't want this car!
Nick Jonas – 1960 Ford Thunderbird, Estimated $80K
Recently married, former teenage heartthrob Nick Jonas, is someone every girl knows. This charming man is down-to-earth and funny. What more could you want in a man? Priyanka Chopra Jonas is definitely a very lucky woman. Nick Jonas worked with his brothers Kevin and Joe, in the well-known band The Jonas Brothers. Nick was discovered at the young age of six.
He was with his mother at a local barber shop when they were approached by a professional show business manager and by the age of 7 Nick was performing on Broadway. Some of his shows included A Christmas Carol as Tiny Tim (2000), Scrooge (2001), and Beauty and the Beast as Chip (2002). He released his debut single in 2002. His life was been one of extreme luxury for a very long time. Nick is also an old school cars kind of guy. His 1960 Ford Thunderbird is his pride and joy.
Tim Allen – Moal Roadster, Estimated $50K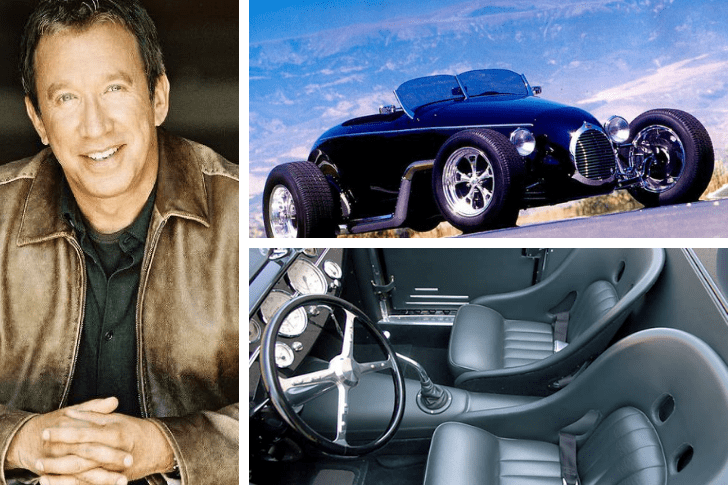 Timothy Alan Dick, professionally known as Tim Allen, is an American actor and comedian. Before making a career out of his sense of humor, Allen had quite a rough life. He was a salesman by day and part-time drug dealer. His criminal activity dragged him through trials and courtrooms. His career in showbiz is really where his life went uphill. Apart from fame in the initial years of his career, Allen is known for the hit '90s show Home Improvement as well as voicing the character of Buzz Lightyear in the Toy Story franchise.
Moreover, Allen is known for his collection of cars. A lot of the vehicles from his wide-ranging collection have been modified to his personal specifications and design. Allen's collection comprises of a 1933 Ford Roadster, 1996 Chevrolet Impala SS LT5, 1946 Ford Convertible, a 1986 Ford RS200, and a 1965 Shelby Cobra. His Moal Roadster went on auction on eBay in 2010 and sold for $50K. An estimation of the worth of his entire car collection is to be around an impressive $80 million.
Hugh Jackman – Volkswagen "Old School" Camper, Estimated $70K
Hugh Michael Jackman is an Australian actor, singer, and producer and very well loved among celebrities as well as the public. He has charisma and charm and has won international recognition for his roles in a variety of film genres. Jackman is known for his long-running role as Wolverine in the X-Men film series. He holds the Guinness World Record for "longest career as a live-action Marvel superhero" for this role. He is world famous for his lead roles in films such as The Prestige and the film version of Les Misérables.
In 2017, Jackman played a circus owner P.T. Barnum in a musical named The Greatest Showman for which he received a Grammy Award for Best Soundtrack Album. His work in Les Misérables earned him his first Academy Award nomination for Best Actor and his second Golden Globe Award nomination, in which he won, for Best Actor – Motion Picture Musical or Comedy in 2013. Jackman' net worth is estimated at $100 million. Jackman owns a cool "old school" Volkswagen Camper which costs around $70K.
Fergie – Porsche Cayenne Turbo, Estimated $65,700K
Fergie is that musician with a class so divine that leaves us all in awe. The singer quickly gained international fame after joining the famous band, The Black Eyed Peas for their 2003 album, Elephunk. This lead to an international widespread and appreciation of Fergie's talent. Later, Fergie even went on to release two solo albums known as The Duchess and Double Duchess.
Raised as a Roman Catholic with a rich ancestry including Irish, Native American, Mexican, Scottish and English, what many people are shocked to learn is that back in her school days, Fergie used to be a cheerleader, a Girl Scout, a straight-A student as well as a spelling bee champion. When it comes to her celebrity luxury lifestyle, Fergie seems well acquainted with the top and latest cars and slays with her Porsche Cayenne Turbo which has an estimation of $65,700.
Madonna – BMW 7-Series, Estimated $83,750K
Madonna's net worth is estimated at $800 million. Material girl Madonna is one of the biggest stars of her generation, and officially the most successful female solo artists. A part of what makes Madonna so great is that parents' strict observation of the Catholic faith played a crucial role in her childhood which later became the subject of her controversial works.
However then the loss of her mother at the age of five made her determined to make her voice heard, and eventually she rebelled against her traditional upbringing and rejected her religious background. Her fame began to grow after her first single 'Everybody' became a club hit and she used this success as leverage, and went on to record her full length album, Madonna in 1983. Moreover, Madonna's distinct sense of fashion, lace lingerie, fishnet stockings and large crucifix necklaces made a statement among girls all over the country, and she even has a brilliant taste in cars which is shown with her BMW 7-series.
Emilia Clarke – Audi Q3, Estimated $35K
Emilia Clarke got famous the minute she accepted the role of Khaleesi in the HBO series Game of Thrones. This series also gave her the title of the sexiest woman alive from Esquire Magazine in 2015. Later in the year 2016 Clarke was cast as the leading role in Solo: A Star Wars Story. Emilia Clarke is a beautiful and vivacious brunette with a zest for life.
Her smile can light up a room the minute she steps into it. After years of hard work, she is finally sitting in the lap of luxury and she has used it to buy herself house security and all other amenities as well. Clarke also quite proudly stated in an interview that after she bought the house of her dreams, the first thing she did was buy a car. This was an Audi Q3. It cost her around $35K and according to her, and every car enthusiast, is well worth its price.
Patrick Dempsey – Panoz Esperante Estimated from $40K Upwards
Patrick Dempsey is a multi-faceted and multi-talented personality. He is an American actor. Patrick Dempsey is one of the few examples of an actor who came back big after fading away into relative oblivion, in spite of starting off with a big bang. You could say it was beginner's luck but Dempsey was an overnight hit in the '80s but after a promising beginning Dempsey's flame of fame died down until he hit the next big thing.
This was by sheer luck, perseverance and hard work through Grey's Anatomy  which aired in 2005 where he played the role as Dr. Derek Shepherd or, as the female population knows him,"McDreamy." Patrick Dempsey is also known as a race-car driver, probably the only actor to do so professionally. Being an avid racer, he owns a plethora of cars including the Mercedes-Benz SLS, Mazda RX-8, Maserati GranTurismo, Ferrari Daytona, Lotus Exige, Jaguar, Porsche 911 GT3 and Aston Martin. Patrick Dempsey's love for high end racing cars led him to acquire a metallic silver Panoz Esperante GT. The Esperante GT possesses an aerodynamically shaped exterior and has been fitted with 17 inch aluminium BBS RK wheels.
J.K Rowling – Rolls Royce, Estimated at $8OOK
In the contemporary world of literature, the global and phenomenal success of Joanne Kathleen Rowling is still unmatched. Despite the success of other fictional authors like Stephanie Meyer, Rowling's works continue to mesmerize millions of readers around the globe and will continue to do so for many years to come. What makes Joanne so popular to millions of households aside from being the author of the world-wide best-seller Harry Potter series?
Unknown to many readers and fans of Rowling is her rags to riches story, from being a bi-lingual researcher and doing secretarial works in various institutions, her ordinary life has changed to the status of being a multi-millionaire in just a little time, after releasing the first adventure of Harry Potter.  J K Rowling is now one of the richest women in the world & was awarded the 'Most Influential Woman in Britain by leading Magazine editors.  She drives a luxurious Rolls Royce and travels in style. The price of her car was estimated to be around eight hundred thousand dollars.
Megan Fox – Mercedes Benz G500, Estimated $125K
Megan started out very early in the glamour world with small part-time assignments and roles in films & TV sitcoms. She started bagging lead roles in movies from 2004. Her big breakthrough role arrived with the 2007 hit movie Transformers which catapulted her onto the big stage. She also starred in the blockbuster sequel of Transformers released in 2009. She is considered as one of the sexiest women in the world. Megan Fox is one of the mysterious women of the the cinematic world as she is very private.
She has been in  film & has had modeling contracts for her stunning looks. She reportedly earns around $4 million per movie and leads a very luxurious lifestyle & has a taste for high-end luxury homes & cars. She drives around in a black Mercedes-Benz G500. Recently she has switched to a white vehicle of the same make. It is a classy car offering a royal ride, making an absolute luxury statement for the owner. The Mercedes-Benz G550 is a five person car and is highly loaded and stuffed with all kinds of luxurious and technological features making it an ultramodern car estimated at $125K.
Michael Jordan – Ferrari 599 GTB Fiorano, Estimated $200K
Michael Jordan needs no introduction. He is one of the best sportsmen the world has ever seen and certainly one of the best basketball players in history. His plays and moves, back in the day, with the Chicago Bulls were moving to watch.
Obviously, he amassed a fortune in his life time and purchasing a Ferrari 599 GTB Fiorano in lemon yellow for an estimated $200,000 was absolutely no problem for such a star. He also has a Chevrolet C4 Corvette, Ferrari 512 TR, Porsche 911, Toyota Land Cruiser, Aston Martin DB7 Volante as well as a Mercedes-McLaren.
Amy Adams – Audi A6, Estimated $61K
Amy Adams is a very in-demand actress these days. Her performances are superb which makes it no surprise that she has been nominated for 6 Oscars. She has also starred opposite real Hollywood heavyweights such as Mark Wahlberg, Jake Gyllenhaal and Bradley Cooper.
For Amy a beautiful shiny, black, luxurious Audi A6 is her car of choice. It boasts a 325 lb-ft torque and 310 HP. It is sleek and elegant just like the lovely lady inside who drives it and she possibly likes to drive around in this car as it is not so easy to spot by the paparazzi.
Snoop Dogg – Rolls-Royce Phantom, Estimated $440K
Snoop Dogg has been around for a really long time. He has the coolest melodies with the sweetest beats. He is a staple of the hip hop scene and is seen as one of the "old-school" greats. He has really interesting choices of cars that are just as unique as him.
He has a customized L.A. Lakers, neon yellow and purple, 1967 Pontiac Parisienne as well as a Golden 1969 Buick Riviera as well as a stunning Rolls-Royce Phantom. The phantom's price is estimated at $440K. It looks amazing and many of his family members can fit inside.
Kate Upton – Mercedes-Benz SLS 6.3 AMG, Estimated $248K
Kate Upton is a former Sports Illustrated swimsuit model that made headlines because of her curves. She doesn't look like your average model and the world loves her for it. She even has 5.9 million followers on Instagram. Now, as a model you are often in the public eye, so Kate makes sure she is seen in style.
This is why she drives a sleek and stunning Mercedes-Benz SLS 6.3 AMG. This beauty is able to accelerate from 0 to 100 km/h in only 3.8 seconds. It can also reach the very fast speed of 315 km/h. It was also built to be very safe in the case of any accidents occurring.  Kate's Mercedes is dark gray and suits her perfectly.
Tom Brady – Bugatti Veyron Super Sport, Estimated $3 Million
Tom Brady remains one of the best five quarterbacks to date that the NFL has ever seen. He, along with his pal Bill Belichick, hold the distinction of being one of the greatest quarterback-coach partners, winning 124 regular games and 16 post-season games together. When he signed on for a four-year, $72 million contract in September with the Patriots, it was by far the NFL's most expensive deal for a yearly contract.
Soon after –  in November, Brady was promoted to become the Patriots star player. Like any athlete, Tom Brady loves driving luxury cars and one of his prized possessions is his $3 million black Bugatti Veyron Super Sport. It gets to 60 mph in only 2.5 seconds and boasts 1200 horsepower. Bugatti produced 450 of these babies within a ten year span and other owners include Jay-Z, Simon Cowell and Tom Cruise. We are sure his wife Gisele Bündchen enjoys time in this car too.
Liam Neeson – Chevy Suburban, $35K
Liam Neeson has been taking people's breaths away in action movies like Taken, Non-Stop and The Grey. He is a very seasoned actor with a huge presence – literally, he towers at 6 foot 3 and and a huge presence in the cinematic world. He has starred opposite greats like Ralph Fiennes and Ben Kingsley in 1993's Schindler's List and Helen Mirren and Patrick Stewart in 1981's Excalibur.
Liam has quite the collection of cars and for this big guy, he has one particularly big car which is a $35 K Chevy Suburban. Other cars that Liam has been spotted in is a Mercedes E Class, Mercedes S Class, Audi Q7, BMW 5 Series as well as a Bentley Continental GTC. His Chevy Suburban is white and is very spacious – many people can come along for the ride!
Halle Berry – Lexus Hybrid, Estimated $46K
Halle Berry is simply stunning. She was even a Bond girl in Die Another Day opposite Pierce Brosnan. She has been in showbiz for a really long time – even though she seems to not age. She is also the only African-American woman to win the Academy Award for Best Actress for her performance in 2002's Monster's Ball.
Halle's car of choice is a Lexus Hybrid that costs around $46K. She has two kids so this is the ideal family car as it's is really spacious. Even though her love life is and has always been a roller coaster ride, it's not the same with her car. The Lexus Hybrid gives a really smooth ride as it is as powerful as a petrol engine and at the same time is combined with a super efficient electric motor.
Rafael Nadal – Ferrari 458 Italia, Estimated $230K
This Spaniard is pretty impressive. He and Roger Federer have gone at it many times at the courts with the aim of winning many tennis championships. He has also appeared alongside superstar Shakira in her video Gypsy. He is a very hard-working and disciplined tennis player and deserves every win and everything alongside that, including his stunning car of choice.
Rafael drives a super sleek and fast Ferrari 458 Italia which suits the tennis star well. It's price is estimated at $230K  and the car itself has won over 30 international awards. Over the years it has been voted "Best Performance Engine" and "Best Engine Above 4 Liters" and more. The car is an absolute winner, just like the man driving behind the wheel.
Adriana Lima – Porsche Cayenne SUV, Estimated $350K
Adriana Lima is a Brazilian model that has been around for a very long time. She has walked the Victoria Secret runway for years. She has a perfect combination of dark hair with light eyes that bring glamour to her face. She has also been a Maybelline cosmetics spokes model.
Of course, this gorgeous model keeps it stylish, and that's why she drives a Porsche Cayenne SUV. It's big, shiny and white and is a very powerful car. The car comes at a hefty price of $350K but considering the fact that her net worth is $85 million, we're sure it's no problem for gorgeous Adriana.
Venus Williams – Mercedes-Benz G-Wagon, Estimated $107K
Venus Williams has made headlines for a great number of years. She and her sister, Serena, are possibly two of the greatest female players to have ever stepped on a grass court.  In fact, she has been playing since she was 14. Venus obviously trains very hard as she has a very strong body.
The same can be said of her car – it's a classic, strong and very tough. Venus' car of choice is a Mercedes-Benz G-Wagon that comes with the price tag of $107K but with all Venus' wins she can more than afford it. The car actually suits her perfectly as it's beautiful, big and strong – just like Venus.
Janet Jackson – Lamborghini Gallardo Spyder, Estimated $250K
Janet Jackson comes from one of the most famous showbiz families of all time – the Jacksons. Besides her success as an actress and singer, her brother Michael was hailed as the "King of Pop" and her brothers entertained the world as an ensemble as "The Jackson 5."
Being in the business for such a long time she has amassed a huge amount of success and cash and that's why she can drive a Lamborghini Gallardo Spyder which has a price tag of around $250K. She also owns a Lamborghini Murcielago, Aston Martin Vanquish, Bentley Continental GTC.
Tiger Woods – Porsche Carrera GT, Estimated $440K
Tiger Woods is one of the greatest golfers of our time. He really made his mark on the game and was voted PGA Player of the Year many times and won Masters Tournaments and PGA Championships many times over.
Unfortunately, he went through a lot of controversy a couple of years back when it came to his personal life, but that is over. With a net worth of $800 million it was no problem for Tiger to purchase a Porsche Carrera GT for $440K. It's a sleek car that has a stunning design and is super fast! Besides this gorgeous car, he also has a Cadillac Escalade, 2001 Buick Benga, Lexus LS 460 Sedan and Buick Enclave.
Joe Haden – Lamborghini Aventador, Estimated $1.1 Million
Joe Haden is a really popular cornerback and played for the Cleveland Browns from 2010 until 2016 and from 2017 until present with the Pittsburgh Steelers. He really enjoys his wealth and enjoys his small Lamborghini collection. He owns a white Lamborghini Murciélago which has a fiery interior of red leather.
He also has a gorgeous 2014 Lamborghini Aventador that he had specially made to match the colors of his old team which is a mix of both orange and brown. Seeing by the pictures above, he certainly loves his car and I'm sure he takes it out to town as much as possible.
Taylor Swift – Toyota Sequoia V8, Estimated $61K
Taylor Swift is one of music's greatest stars. She is extremely hard working and has won numerous awards including Grammy Award for Album of the Year, American Music Award for Artist of the Year and many more. She was only 16 years old when she released her first album which was self-titled.
She also has a notorious reputation for dating very famous men, breaking up with them and singing songs about them which usually hit number 1 Billboard status. Now one would expect that with all of Taylor's success she would be very flashy with her cash – but she's not. Taylor has a customized black Toyota Sequoia V8 that she usually is seen with when shopping and going around town. She also has a Lexus RX 450h as well as a stylish Audi R8 when she goes out partying.
Axl Rose – Porsche 918 Spyder, Estimated $845K
Axl Rose needs no introduction. He fronted one of the greatest rock bands of all time – Guns n' Roses. They were truly a phenomenon, and so was he. He may not have the energy of his youth, but he still performs.
True to his nature, Axl drives a really unique and outstanding car – a Porsche 918 Spyder estimated at $845K. It's sleek and futuristic-looking. In fact, could easily blend in on the set of Batman. The car has a V8 engine with two electric motors. It's simply luxurious and stunning and suits Axl perfectly!
Danny DeVito – Nissan Leaf, Estimated $26K
Danny DeVito has been in the entertainment industry for years. He is an actor, producer and director. Not many people know this but he starred alongside Jack Nicholson in One Flew Over the Cuckoo's Nest (1975). His big break came in 1978 with the ABC sitcom Taxi. Over the years he played many other roles and his production company, Jersey Films, produced classics like Pulp Fiction (1994) and Get Shorty (1995).
He also directed the movies Throw Momma from the Train (1987) and the brilliant The War of the Roses (1989). Now, standing at 1,47 m (4 foot 8 inches), Danny is rather short. So what does someone of his size drive? Well, he actually loves driving his Nissan Leaf. This is an EV (electric vehicle) car. It has a 147-hp electric motor which is powered by a 40-kWh battery, which offers 150 miles of EPA-estimated range.
Kim Kardashian – Ferarri 458 Italia, Estimated $325K
Kim Kardashian has been very successful in making her unique and expensive taste well-known. Anything she's ever purchased would almost always start a trend. Some of her best investments are found in her garage.
She has two Range Rovers, two Rolls-Royce Ghosts, a Porsche Panamera, a Mercedes-Benz G63, a Bentley Continental GTC, and, her most favorite, the Ferrari 458 Italia. The 458 Italia, which is one of Ferrari's top car models, can hit a top speed of 325 kph. Kim definitely knows how to keep her fans amazed. In February 2019, she stripped down to advertise Valentine's Day fragrances.
P. Diddy – Rolls-Royce Phantom Drophead Coupe, Estimated $440K
Sean Combs, famous by his alias P. Diddy, has managed to make himself recognized as one of the richest and most popular rappers in the music industry. You might have noticed that he's into real estate investments and stunning four-wheel drives.
Today, he has managed to collect a fleet of luxury cars which includes a 1958 Corvette, a Maybach 57, a Lamborghini Gallardo Spyder, and a white Rolls-Royce Phantom Drophead Coupe. In 2015, the Phantom Drophead Coupe was the most expensive Roll-Royce model as it retailed for $533K at that time. As another proof of his affluent lifestyle, Diddy hosted an extravagant party at his estate in Miami to welcome the new year in 2018.
Jerry Seinfeld – Porsche 959, Estimated $1.8 Million
Aside from stand-up comedy, Jerry Seinfeld is also well-known for his vast Porsche collection which is estimated at around 47 vehicles. However, his financial mindset may have changed in recent years.
In 2016, he decided to sell 17 cars from his vehicle collection at the Gooding Amelia Auction and earned an estimated $30 million (not bad at all, right?). One of the vehicles that he gave up is the Porsche 959 that has a price of $1.8 million. However, he didn't keep all of that money to himself. It is believed that he donated a good part of it to charity. Catch him on his next tour on February 23 in Las Vegas, Nevada.
Kanye West – Mercedes SLR, Estimated $850K
Kanye West is known for being a protective father to his family. As a matter of fact, he shelled out $2.5 million just to have all of their vehicles armored for their protection. Among these vehicles is his most favorite, the Mercedes SLR, whose car insurance probably cost almost its estimated price.
The Mercedes SLR features a supercharged M155 SLR V8 engine and could accelerate from 0 to 100 mph in just 3.6 seconds. In January 2019, Kanye decided to give back by donating $10 million for the completion of Roden Crater by artist James Turrell.
Simon Cowell – Bugatti Vernon, Estimated $1.7 Million
As one of the richest and most blunt personality in the UK, Simon Cowell knows he needs to keep up his style or actually ride in style. Well, Simon actually knows his cars. In fact, he loves fast and expensive ones. According to records, he owns 25 cars—with some of it custom-made—and this collection is now worth more than $15 million.
His most used car is the Bugatti Veyron which costs $1.7 million and boasts a top speed of 407 km/h. Simon's car collection would definitely increase more in the coming years since he has a lot of upcoming projects. His first BBC show, The Greatest Dancer, just started airing in January 2019.
Jay-Z – Maybach Exelero, Estimated $8.8 Million
Jay-Z is undoubtedly among the most famous and most successful rappers in the world. He is also the husband of music superstar Beyonce. Together, they boast a $1.255 billion net worth!
With his own $900 million fortune, he was able to spend more than $15 million on his cars which include a Rolls-Royce Phantom, a Ferrari F430 Spider, a Porsche 911 Carrera Cabriolet, a Bugatti Veyron, a Maybach 62S, and a Maybach Exelero. In 2018, he released a collaboration with Beyonce titled Everything is Love and managed to bring home two awards at the 2018 MTV Video Music Awards.
50 Cent – Lamborghini Murcielago, Estimated $2 Million
When it comes to swag among hip-hop stars and rappers, 50 Cent certainly isn't an exception with his lavish rides. Inside his garage, you will find a vast range of exotic cars, a Range Rover, a Bentley, and a Yamaha YZF-R1. Another sick car in his collection is his blue Lamborghini Murcielago which has a whopping price of $2 million.
In addition to these cars, he also has a customized collection of a Pontiac G8, a chrome Lamborghini Gallardo, a Parker Brother's Speed Racer 3-wheeled concept, a Ferrari F430, and a Rolls-Royce. We're sure the list would still grow. However, some sources claim that he has filed for bankruptcy a few years back.
Flo Rida – Bugatti Veyron, Estimated $2.7 Million
Once you become a chart-topping and dominating rapper in the music industry, it's definitely acceptable to splurge your cash in car shopping. Flo Rida began dominating the charts in 2008 with his single, Low, that became number 1 for 10 weeks. With this instant fame and fortune, his paychecks made him afford everything he wanted to buy.
Flo Rida now owns a golden Bugatti, a Ferrari California, a Mercedes-Benz CL, and a Ferrari 458. One of the most stunning rides he owns is the chrome Bugatti Veyron which he bought for $2.7 million. In 2018, he released a single titled Dancer.
Tom Hardy – Audi R8 Spyder, Estimated $160K
Tom Hardy is used to driving a lot of fast cars for his work. He has even managed to bring home some of these fast and expensive cars in real life. Hardy has his own impressive garage at home, with a custom matte black Audi R8 Spyder and a glossy Audi RS (he obviously loves Audi).
Both of these cars boast impressive speed and safety levels. The Spyder retails for $160K, an amount that certainly did not hurt his bank account in any way. In 2018, Hardy starred in the film Venom; an adjunct film connected to the Marvel Cinematic Universe.
Gigi Hadid – BMW M2, Estimated $65K
Many people would totally love or envy supermodel Gigi Hadid's life. At the age of 23, she's already earning millions through her gorgeous face and body. To add up, she's also the spokesperson of BMW. This meant owning a blue BMW M2 as a gift!
Imagine having all that cash in your bank and not spending it too often. She welcomed 2018 by appearing in several campaigns for Valentino, Moschino, Versace, and Fendi. Since 2012, Gig has been appearing in films and television shows. In fact, she's part of the 2018 film, Ocean's 8.
Rihanna– Lamborghini Aventador, Estimated $750K
A couple of years ago, Rihanna gave Chris Brown an expensive gift. In turn, she received a Lamborghini Aventador worth $750K. Even after their break up, Rihanna didn't let go of the stunning Aventador.
Riri would obviously keep it since she has a growing collection of her own, which includes a Porsche 997 Turbo, a Chevy Suburban, and a Chevy Camaro. At this point in life, Rihanna isn't just focused on growing her fortune and vehicle collection. She started making an impact through her cosmetics company, Fenty Beauty. In 2018, she was also appointed as ambassador of Barbados.
Ludacris – Ferrari FF, Estimated $300K
When rapper Ludacris got a chance to drive the most expensive and stunning rides in the film The Fast and the Furious, he was inspired to have his own collection as well. Through his impressive earnings, he was able to purchase vehicles like a Bentley Continental GT, a Rolls-Royce Phantom Drophead Coupe, and the most-liked 1993 Acura Legend.
Another favorite of his is the silver-white Ferrari FF which retails for $300K. In 2018, Ludacris was featured in Carrie Underwood's single, The Champion. The song easily hit number 47 on the Billboard Hot 100 and was used as the opening song of the Super Bowl LII and the 2018 Winter Olympics.
Amber Heard – Ford Mustang, Estimated $150K
Amber Heard may own the best and most expensive automobiles in the world like her Mini Cooper. But still, her favorite is a classic. Up until now, she loves using her classic 1968 Ford Mustang which was already in a beat-up state. In 2015, it was finally restored and brought back to its prime condition.
However, we're totally unsure if she still owns it after her separation with actor Johnny Depp, since he got away with 42 vehicles as part of the divorce settlement. Despite the nasty divorce, Amber continued her career and even appeared alongside Jason Momoa in the 2018 film, Aquaman.
Iggy Azalea – Ferrari 458 Italia, Estimated $225K
Iggy Azalea may be well-known for her career as a rapper, but her beautiful four-wheeled drive collection is also undoubtedly worth mentioning. The blonde rapper has an entire garage filled with stunning luxury cars like her G-wagon, Mercedes G550, classic 1962 Impala, and—the most gorgeous of all—the Ferrari 458 Italia worth $225K.
Unfortunately, after her break-up with her ex-fiance, NBA player Nick Young, there are rumors that Iggy went on and sold everything including her vehicles. She moved to a smaller house in San Fernando Valley and also renamed her record label to Bad Dreams in January 2019.
Will.i.am –  McLaren MP4-12C, Estimated $300K
Known as the founder of the hit hip-hop group The Black Eyed Peas, will.i.Am has been around the scene since 1988. Throughout the years, Will.i.am has also released four solo albums including #willpower in 2013.
With his love and passion for vehicles, he started financing a business called IAMAUTO. And what's a good vehicle company owner without a gorgeous vehicle? The Scream & Shout singer proudly owns a McLaren MP4-12C which he purchased for $300K. In 2018, he published the book, Wizards and Robots, with the help of Brian David Johnson.
John Cena – Chevrolet Camaro, Estimated $300K
Due to his outstanding professional wrestling career, John Cena is considered to be one of the greatest wrestlers that have stepped foot on WWE. Outside of wrestling, John has accomplished a lot of things and even appeared in multiple films including 12 Rounds, The Marine, Ferdinand, and 2018's Bumblebee.
Many also know that John is very fond of automobiles and is a proud owner of 23 muscle cars. John has mentioned that his favorite vehicle among his collection is his red Chevrolet Camaro that made him shell out around $300K.
Beyoncé  – Rolls-Royce Silver Cloud II Convertible, Estimated $1 Million
Beyoncé started out her career being managed by her dad, Mathew Knowles, when she was still with the girl group, Destiny's Child. After some time, Beyoncé proved that she could become one of the best performers in the world and had a solo career.
Even though her husband, Jay-Z, could easily buy Beyoncé a private jet, he decided to purchase a breathtaking Rolls-Royce Silver Cloud II Convertible for his wife for her 25th birthday. Jay-Z and Beyoncé have a combined fortune of $1.16 billion, which made it easy for them to purchase such expensive vehicles.
Ralph Lauren – Vintage Bentley Blower, Estimated $5 Million
Ralph Lauren surely made his mark in the clothing industry with his brand of luxury fashion. His global company, Ralph Lauren Corporation, had around $6.2 billion dollars in revenue in 2018. With his love for designing and all things unique, Ralph would spend millions just to acquire the most interesting and stunning vehicles.
He even spent $5 million to add a vintage Bentley Blower to his collection. Ralph is known to have a wide variety of gorgeous cars with values that sum up to $350 million. In 2017, Ralph showcased his million-dollar automobiles at the New York Fashion Week.
Jodie Kidd – Jaguar F-Type, Estimated $150K
Known for being a race car driver, Jodie Kidd has proven that she's one of the best in the league. As a Top Gear driver, Jodie is very passionate about her vehicles and she certainly owns multiple gorgeous automobiles.
Jodie had the chance to obtain the car keys of a Jaguar F-Type that has a total speed of 186 mph. For a $150K vehicle, the Jaguar F-Type is definitely a head-turner. The 40-year-old Jodie, who also worked as a model, has also appeared in numerous films and was recently a guest on the show, Peng Life.
Lady Gaga – Audi R8, Estimated $165K
After Lady Gaga dropped out from college to pursue her music career, she came across Akon who helped her produce her debut album, The Fame. Since then, Lady Gaga's career was nothing but success. She ended up living the life that she always dreamt of.
Lady Gaga also managed to purchase a luxurious automobile that cost around $165K. The vehicle that she had chosen to purchase is an Audi R8 that can easily accelerate from 0 to 62 mph in just 3.6 seconds. Lady Gaga also started to work in the film and television industry, appearing in multiple films and shows including the 2018 movie, A Star is Born.
Shaquille O'Neal  – Cadillac Escalade, Estimated $150K
Many would remember Shaquille O'Neal as one of the greatest centers to have ever stepped foot in the NBA. As a massive human being, Shaq needs a car that can fit his 7-foot-1, 325-pound frame. That is why Shaq decided to purchase a $150K Superman-themed Cadillac Escalade.
With a whopping $400 million net worth, Shaq is also the proud owner of numerous gorgeous vehicles. However, this one is his favorite. After retiring from basketball, Shaq ventured out into acting and appeared in numerous films. These include his most recent project, 2018's Uncle Drew, where he portrayed Big Fella.
Kendall Jenner – Ferrari 458 Spider, Estimated $250K
As part of the famous Kardashian-Jenner clan, Kendall Jenner easily slipped her way into the limelight through their reality show, Keeping Up with the Kardashians. She has also made a name for herself in the modeling industry and became the highest-paid model in the world in 2018.
As a gift for herself, Kendall bought a black $250K Ferrari 458 Spider that can easily reach 62 mph in just 3 seconds. Of course, Kendall has a lot of gorgeous vehicles aside from the 458 Spider, including a red Mustang, a 1957 Chevrolet Corvette Stingray Convertible, and a Camaro GTO.
LeBron James – Lamborghini Aventador Roadster, Estimated $400K
Before LeBron James even stepped foot in the NBA, he was already famous in high school for his impressive gameplay and athletic skills. Soon enough, LeBron found himself dominating the professional court and is now considered to be one of the greatest to ever set foot in the game.
LeBron surely knows how to spend all of his riches and purchased a stunning Lamborghini Aventador Roadster for $400K. His vehicle just stands out among others due to its "Nike King's Pride" cover. Unfortunately for Cleveland, LeBron decided to sign a $154 million four-year contract with the Los Angeles Lakers.
Celine Dion – Maybach 62, Estimated $500K
Without a doubt, Celine Dion is one of the best singers there is in the music industry. Her singles and albums were loved by her fans and have sold over 50 million copies in Europe alone. Celine has been living her life luxuriously after all the hard work. One of these luxuries is the Maybach 62 that cost her $500K.
Though Celine is already receiving a lot of cash with her music, she ventured out into the business world and started to sell gender-neutral clothes for kids. At the age of 50, Celine is still performing for her fans and has recently performed at the Aretha! Grammy Celebration for Aretha Franklin.
Kylie Jenner – Ferrari 458 Spider, Estimated $250K
Kylie Jenner belongs to one of the famous and most influential families there is in the history of modeling. She managed to obtain millions of fans due to her stunning overall appearance.
Of course, as a famous entrepreneur and TV personality, Kylie needs to ramp up her automobile game. She purchased a $250K Ferrari 458 Spider and has been seen driving her elegant vehicle around. At the age of 21, Kylie already has a healthy financial state with a $900 million net worth; largely because of her famous cosmetics business, Kylie Cosmetics.
Trisha Paytas – Mercedes-Benz G-Class, Estimated $140K
Trisha Paytas made a name for herself by making lifestyle-oriented blogs on YouTube. Several of her videos became viral and she eventually reached 1 million subscribers. She has also made a number of TV appearances and appeared in music videos for artists like Eminem and Amy Winehouse.
With all of her hard-earned money, Trisha decided to purchase for herself a gift in the form of a gorgeous all-pink Mercedes-Benz G-Class that costs $140K. Trisha also ventured into the music industry and produced numerous singles and eight EPs. In fact, Trisha finally managed to release her eighth EP, Chicken Parm and Heartbreak, in 2018.
Bill Goldberg – Shelby Cobra, Estimated $1.5 Million
Bill Goldberg is one of the most well-known wrestlers back in the late '90s. After gaining a lot of fans on WCW, Bill had the opportunity to purchase some of the most expensive automobiles out in the market.
Just like John Cena, Bill loves American muscle cars and even admitted that he made a huge garage just for his cars. Bill once purchased a gorgeous Shelby Cobra that was estimated to be worth around $1.5 million. With all his hard effort, Bill got inducted in the WWE Hall of Fame during the WrestleMania 34.
Lil' Kim – Rolls-Royce Phantom, Estimated $410K
Since Lil' Kim started her career in 1996, she has already achieved fame after her debut album went certified double platinum and sold over 6 million copies around the world. During the hype of her career, Lil' Kim was known to be a luxury car lover mainly because she could afford them.
One of these cars is her Rolls-Royce Phantom which cost her around $410K. She has previously sold her Bentley Continental GT for $250K. In July 2018, Lil' Kim announced that she is working on a brand new album that would be released in March 2019.
Roger Federer – Mercedes AMG SLS Roadster, Estimated $150K
Roger Federer is a living legend when it comes to the game of tennis. He is a true champion and has won Wimbledon 8 times, the Australian Open 6 times, the US open 5 times and the French Open once. Now, most sports stars that are true greats get sponsored by huge companies and that is the case with Roger and Mercedes-Benz.
Mercedes sponsors him and pays him a hefty amount each year. He actually gets to drive all the newest Mercedes models before they are released to all. Roger has a stunning Mercedes AMG SLS Roadster with a V-8 engine of horsepower that comes with a top speed of 196 mph. It's truly a gem – just like Federer!
Jennifer Lopez – Bentley Continental GTC, Estimated $250K
News is buzzing with the fact that Jennifer Lopez just got engaged to boyfriend Alex Rodriguez (March 2019). Jennifer Lopez has entertained us for decades. She is a confident, proud, beautiful, talented, ambitious and extremely hard-working triple-threat who shows the world that if you believe enough in yourself, you can achieve anything.
It makes perfect sense that she drives a Bentley Continental GTC in classic white that is elegant, luxurious and simply gorgeous – just like JLo herself. It comes with the price tag of an estimated $250K but, with a net worth of $400 million, that is not a problem for Jennifer.
Lil Wayne  – Bugatti Veyron Sang Noir, Estimated $3.4M
Lil Wayne is a man of style, and being a famous rapper affords him all the choices in the world. When it comes to his choice in cars, he opted for a sleek, mean-looking machine in the form of a Bugatti Veyron Sang Noir. The luxury machine carries quite a hefty price tag—in the range of $3.4 million, actually!
Well, it isn't anything that this star cannot afford, so he probably didn't think twice about it. All we hope for is that he doesn't crash this handsome ride because living the high life can have one acting recklessly pretty easily!
Michael Phelps – Cadillac Escalade, Estimated $90K
Michael Phelps has won several medals and accolades, and his whopping total of 28 Olympic medals has earned him the title of the most decorated Olympian in all of history! He has brought much glory to America, and his handsome earnings have enabled him to afford the best luxuries in life.
One of Phelps' cars is a Cadillac Escalade. A luxury black SUV that is mysterious and macho, a perfect combination for the hunky 33-year-old retired swimmer. The vehicle is worth about $90K, and we suspect he will have good insurance to cover it– more so because he was once arrested for DUI!
Frank Gore – Rolls-Royce Phantom Drophead Coupé, Estimated $350K
Successful and popular NFL star Frank Gore is currently a part of the Miami Dolphins, and his salary from his athletic career is enough to be described as a fortune. Of course, when you're raking in massive paychecks, what better way to celebrate your earnings than to splurge on an indulgent gift like a car!
Boys love their four-wheeled toys, and Gore is no different. He opted for an elegant Rolls-Royce Phantom Drophead Coupe, a 2010 model that makes heads turn. If you like the look, you have to shell out about $350K for one of these bad boys!
Jessica Alba – Audi A8, Estimated $83K
The beautiful Jessica Alba took to Hollywood to make her acting dreams come true, but we wonder whether she expected that they actually would! Well, today she is among the rich and famous and the world is her oyster! We don't see her all that much on screen nowadays.
But she's got a fortune of around $200 million, so she doesn't need to do much, anyway! Alba, who founded her own consumer goods brand called The Honest Company, went ahead and spoiled herself with an $83K worth Audi A8—simple, yet luxurious. This is a lovely ride for a night out or even for her family of five!
Scott Disick – Audi R8, Estimated $115K
Scott Disick gained a lot of attention for being the ex-partner of the famous Kardashian sister, Kourtney Kardashian. Their antics as an on-and-off couple parenting three kids just kept the public entertained. As a result, people have a love-hate relationship with Disick.
The 35-year-old Scott is certainly one who loves the high life, and his choice of vehicle speaks volumes about that! He chose a car that is as flashy as possible and is a real head-turner! It doesn't get any shinier than this chrome-finished Audi R8, which is worth $115K! The vehicle isn't family-friendly as it is a two-seater, but we highly doubt that was a consideration when he made this buy!
Victoria Beckham – Porsche 911 Cabriolet, Estimated $120K
When one thinks of Victoria Beckham, you think of a classic and simple style with neutral colors and clean lines. Her style reflects in everything; from her hairstyle to her choice in outfits and down to her cars. Here, we see Posh Spice's luxury Porsche 911 Cabriolet in a stark, clean, and classic white.
The vehicle costs around $120K and bears an impressive top speed of 300kph. Well, she sure must have fun whizzing about in this beauty! For the Beckhams, it seems classic style takes priority over flashy and glamorous; but it suits them perfectly!
Lindsay Lohan – Porsche 911 Carrera Cabriolet, Estimated $120K
Lindsay Lohan has seen many ups and downs during the years since she joined the entertainment industry. She's earned insane salaries, and then she's experienced addiction problems.
She had to spend massive chunks of her fortune on fixing herself up at rehab, and now she's working on recovering from all the damage of her wrong choices. Well, we sure are happy for her when we see that she can spoil herself with a fancy ride. Here is Lohan's Porsche 911 Carrera Cabriolet in black, worth about $120K. The Mean Girls star has been spotted riding this all over town!
Anne Hathaway – Porsche 911 Carrera S, Estimated $104K
Actress Anne Hathaway is certainly a well-decorated member of the Hollywood stars group! She is considered to be among the highest-paid in the industry. With several figures rolling into the bank all the time, she can certainly enjoy the luxury!
Hathaway seems to know that she has to balance hard work with some kind of reward, and one of the ways she rewarded herself was purchasing a smashing car! Check out her sleek blue Porsche Carrera S, which costs about $104K! The Hustle star sure gets to ride around in style, alright!
Nicko McBrain – Jaguar XKR-S, Estimated $132K
Nicko McBrain is known by fans of Iron Maiden as the talented drummer of the heavy metal group. McBrain first went in pursuit of a career as a musician when he was still a teenager, so we bet he's very happy with how things turned out for him.
Over the years, he has become a star, and he can now live the life he has always dreamed of living. McBrain is the owner of a fancy Jaguar XKR-S worth around $312K, and we bet that the insurance for this machine doesn't come cheap! The car is in a rich blue hue that makes it appear even more luxurious indeed!
Guy Fieri – Corvette Convertible, Estimated 270K
We've loved watching Guy Fieri visit countless restaurants all over the shore, tasting delicious-looking food, and we know about his several restaurants across the globe. He's a friendly face of the much-loved Food Network channel.
At one point, audiences enjoyed watching him drive around in his black-and-yellow painted Corvette Convertible. The vehicle packs a punch with 505 horsepower and a V8 7 liter engine under the hood. Fieri is a generous man, as he actually sold this and donated the money he made from the sale to Cooking With Kids Foundation. 
SEAN CONNERY – ASTON MARTIN DB5, $2.83 Million
Most people in the world know who Sean Connery is. He really is a living legend and has starred as the leading role in so many movies. In fact, over his career, he has been in at least 60 movies. He is actually Scottish and has a really thick Scottish accent by nature. His star power came from starring as the original James Bond.
In the movie he got to drive many flashy and fancy cars. In Goldfinger, he drove a gorgeous Aston Martin DB5 which Sean Connery actually got to keep! It fetched for the highest price of any James Bond memorabilia, when sold for £2.6 million ($4.6 million) in 2010. Sean Connery also owned a BMW 635 CSI, but it was auctioned online in 2006.
Mariah Carey – Porsche Cayenne SUV, Estimated $200K
Mariah Carey is one of the most talented singers on the planet. She has been sitting at number 1 on the biggest charts all over the world for decades. She is also definitely a diva and most definitely loves being a woman and celebrating her femininity and her curves with the clothes she wears to her taste in cars.
It is no doubt then that Mariah drives a gorgeous custom-made neon-pink Porsche Cayenne SUV estimated at $200K. She has a large car collection including a Mercedes-Benz SLK, Rolls-Royce Phantom as well as Drophead Coupe and Maybach 62S.
Lionel Messi – Maserati Gran Turismo MC Stradale, Estimated $242K
There is just something about Lionel Messi's car that says "star athlete"! We can't quite place a finger on it, but just looking at the car makes sense that it's owned by a mega-soccer star! The crisp white Maserati GranTurismo MC Stradale is a powerful machine and a good-looking one at that!
It speaks of a modern taste for Messi, who must look like a billion bucks riding in it! Thanks to his successes on the field, he can enjoy purchases like this. It is a car said to be worth about $242K—certainly not small change! He is a father of three, but he sure still has a great sense of style!
CeeLo Green – Auburn Speedster, Estimated $130K
The name CeeLo Green may sound like a model of a car in itself, but it is actually the name of a famous singer and record producer. He's got the kind of funds that allow him to spend till he drops every day.
Of course, anybody with that kind of money will have all the top-notch sports vehicles that money can buy! One car that sets the Forget You singer apart from the others is his vintage Auburn Speedster—a rare find in mint condition! The vehicle is worth about $130K but priceless to a collector, of course!
Lily Aldridge – Lexus RX SUV, Estimated $58K
The gorgeous Lily Aldridge has raked in a massive fortune through walking the runways for Victoria's Secret and for gracing the covers of the highly-coveted Sports Illustrated Swimsuit Issues. Her immense success in the modeling industry has set her up for a life of comfort and all sorts of fancy purchases anybody could think of.
Aldridge spent a fraction of her fortune on a luxury Lexus RX SUV that set her back an amount of $58K (probably not even a chip off of her bank balance!). She and hubby Caleb Followill may need a bigger car now that they welcomed baby number two in February 2019, though!
Miranda Kerr – Audi A8, Estimated $100K
Miranda Kerr is one lucky lady to be the wife of an absolutely wealthy businessman, Snapchat founder Evan Spiegel, but she is even luckier that she has a fortune of her own to rely on as well!
It sure doesn't get any better than that! Well, being a successful model has brought her a healthy bank balance for her to spend as she likes, and one of her purchases was an elegant Audi A8 that cost her around $100K. The Victoria's Secret Angel is the owner of a couple of other rides as well, like an Audi Q7 and a neat Jaguar XJL.
Reggie Bush – Lamborghini Aventador, Estimated $450K
Reggie Bush may be remembered by most for his successful career with the NFL, but some will recognize him for his relationship with reality star Kim Kardashian. Of course, they split up, but he is still recognized for having dated her.
Bush is a lover of all things flashy and with four wheels, and you could say that luxury cars are his "thing". As rumor has it, Bush's fleet is apparently worth over $3 million today! One expensive item of his collection is this sleek Lamborghini Aventador, a model that can call for $450K. Among his others is a 1967 Mustang GT Fastback. He apparently likes both the classics and the flashy ones, too!
Queen Latifah – Rolls-Royce Phantom Drophead Coupé, Estimated $370K
Rapper-actress Queen Latifah is the diva of all divas—and a diva's got to have a spanking ride! Latifah has a number of zeros on her paychecks, and she is a hip-hop queen with taste to kill!
A couple of years ago, the Star actress invested in a little treat for herself in the form of a Mercedes Benz S63. The smart vehicle is just the kind of car to suit a bold and vibrant woman like Latifah. Unfortunately for her, the vehicle was stolen! She then upgraded to a Rolls-Royce Phantom Drophead Coupe, costing three times as much as the stolen car!
Dr. Dre – Cadillac Escalade ESV, Estimated $400K
A look at Dr. Dre's bank account will have your head spinning, that's for sure! He is the second-richest rapper across the globe with a staggering net worth of $850 million! He is credited, partly, for the rise in the popularity of music that is known as West Coast G-Funk, and so it makes sense for him to have such a huge fortune.
It's only fair that you get compensated for the influence you make, right? Well, Dr. Dre hooked up with a Cadillac Escalade ESV 2016 worth $400K for its impressive spacious interior and for the fact that he probably prioritizes comfort!
Cassandra Peterson – 1959 Ford Thunderbird, Undisclosed Amount
Cassandra Peterson is no spring chicken. And while she can't be described as a young lady, she can certainly be described as young at heart!
Nothing speaks more of her vibrancy than her 1959 Ford Thunderbird that has been customized by the propmasters, painted a sleek black, and kitted out to look cool enough to be driven by "Elvira, Mistress of the Dark", the character Cassandra is best known for portraying. Cassandra has earned herself a value of $3 million to her name, with much of the fortune coming from her role as Elvira.
The Game – Bugatti Veyron, Estimated $2.2 Million
Hip-hop artists are known for having a unique style, and that goes for everything from their clothes to their hair and down to their cars. The Game is a hip-hop artist with enough of a fortune to make all his unique style choices come to fruition, and that's what he's done when it came to his vehicles.
His Bugatti Veyron costs an eye-watering $2.2 million—the price of a house! His other cool rides are a leather-wrapped Ferrari, a Fisker Karma, a Bentley GT, a Porsche Panamera, a Dodge Challenger, a Rolls-Royce Ghost, and a Camaro. These babies are all parked in his huge garage, which probably looks more like a luxury car dealership!
Gwen Stefani – Porsche Panamera, Estimated $200K
Gwen Stefani is a lady with quite a sizable fortune behind her, and her substantial divorce settlement helped even more. In 2018, Stefani got herself set up really well when she entered into a contract for a 25-date Las Vegas residency to perform at the Zappos Theater.
The Sweet Escape singer is a woman who values comfort, and we don't blame her—it sure must be draining to be performing for crowds! Her Porsche Panamera worth $200K serves her just perfectly on the comfort front. She also has her two SUVs and a Maserati Quattroporte to choose from to take for a spin!
Nicki Minaj – Lamborghini Aventador, Estimated $400K
Nicki Minaj went the extra mile when she took to customizing her expensive Lamborghini Aventador—as if the car model wasn't enough to make a statement! Oh no, the Barbie Dreams rapper went all the way and didn't just make her car a head turner… she made it a head-spinner!
She went all out and got a full pink paint job on her car— bubblegum pink outside and inside, that is. Well, she is known for her love of Barbie, and so we shouldn't be surprised. Besides, we ought to know that she's bold by now! Minaj is also the owner of a striking hot red Lamborghini Gallardo.
Chris Brown – Lamborghini Aventador, Estimated $450K
Chris Brown is the owner of a number of drool-worthy cars. Here, we see his Lamborghini Aventador, which was also customized but nowhere near Minaj's bubblegum pink. Brown was rather avant-garde with his paint job and selected a jet-fighter-like matte finish for the machine.
Brown's other rides include a Porsche Turbo, a Bugatti Veyron, a Dodge Viper, and not one but two Porsche Panameras—one in blue and one in purple. The Pills & Automobiles singer is not short on finances to feed his love for flashy cars, so why not go ahead and splurge on whatever you like (even if it is the same car in two colors, right?).
Caitlyn Jenner – Porsche GT3 RS, Estimated  $176K
There is no doubt about the fact that Caitlyn Jenner is bold—and she likes it that way. To ensure the statement is loud and clear, Caitlyn opted for a Porsche GT3 RS worth $176K in a vibrant purple.
Caitlyn's fortune is sitting in the $100 million range, so she has nothing to worry about when it comes to the cost of expressing herself. She can choose from anything she likes…several times over! We've seen Caitlyn riding around town in her Porsche, but we look forward to seeing her out with her rumored live-in partner, Sophia Hutchins, again.
Blac Chyna – Rolls-Royce Wraith, Estimated $400K
We're used to the guys having a fleet of cars, but here we have model and entrepreneur Blac Chyna who is also a lover of these four-wheeled bad boys. Chyna likes to ride in style and is the owner of a phenomenal Rolls-Royce costing $400K.
Her luxury car is in a stark, crisp white, which would contrast quite starkly with her pink Lamborghini, pink Ferrari, and pink Range Rover. Her daughter with Rob Kardashian, Dream, is being co-parented by the ex-couple, and we think she probably loves riding in mom's pink fleet—if she gets a chance to, of course!