Women are notoriously fascinated by shoes. The color, shape and size. The way they shape the foot and position the entire body. Some women are known to spend ridiculous amounts on their towering heels. Men are stepping up to this trend too. And since – as we know – when there's a demand there's a profitable market to service, we've tracked down the world's most expensive shoes. From times gone by, to the stuff of fairy tales, the silver screen and beyond, here are the shoes that the very rich and famous spend ridiculous amounts on!
20. Gold-Dipped Nike Dunks – $5,405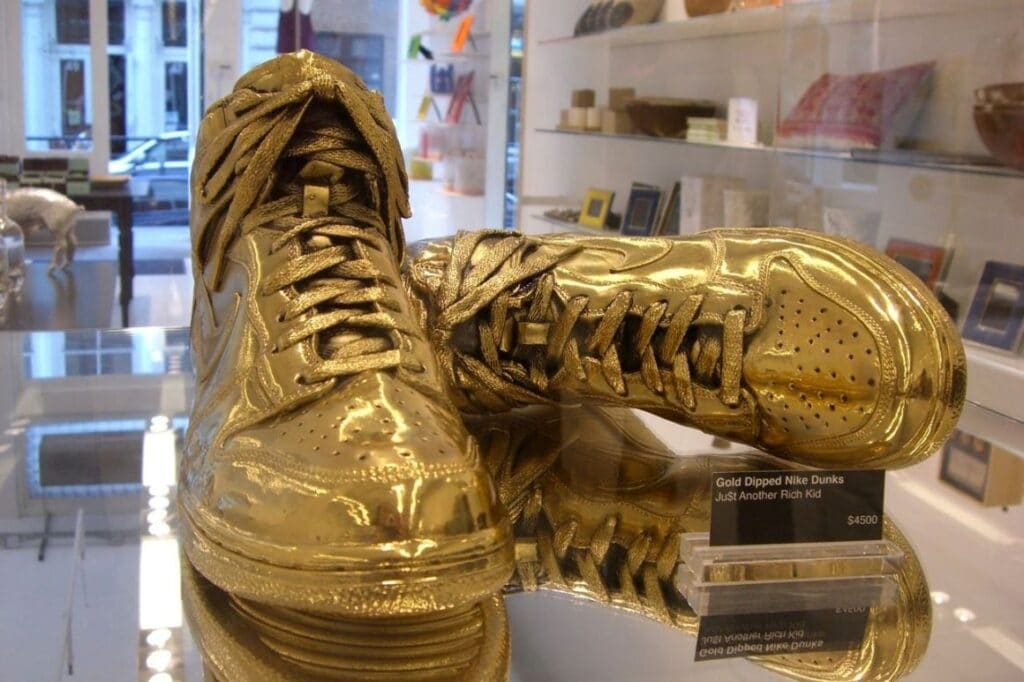 Looking like something out of the Man with the Midas Touch these shoes will have you dripping in gold, literally from head to toe. A bit too flashy for the more understated tastes, these custom-made Nike Dunk High are dipped in 24 carat gold. They are the creation of designer Kenneth Courtney as part of Nike's Limited Edition 24 Carat Gold shoes.
19. Autographed Kobe Air Zoom – $30,000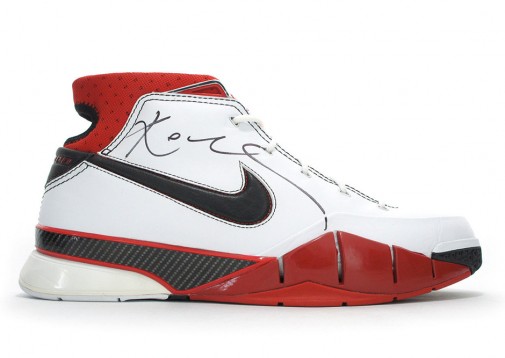 Released as a limited collection of 25 pairs, these shoes were signed by the great (now retired) American professional basketball player Kobe Bryant. The shoes are high performance too, since they offer support, while also being the lightest and most low cut basketball sneaker available.
18. Testoni Shoes- $38,000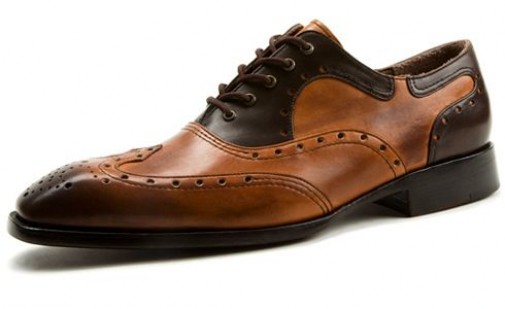 Not for the animal-friendly, these shoes are made from alligator skin making them both highly durable and waterproof. Created by Amedeo Tistoni in 1929, the brand is known for high quality craftsmanship and is positioned to target the man who is a true connoisseur of shoes.
17. Nike So Cal Air Force 1 Supreme Max- $50,000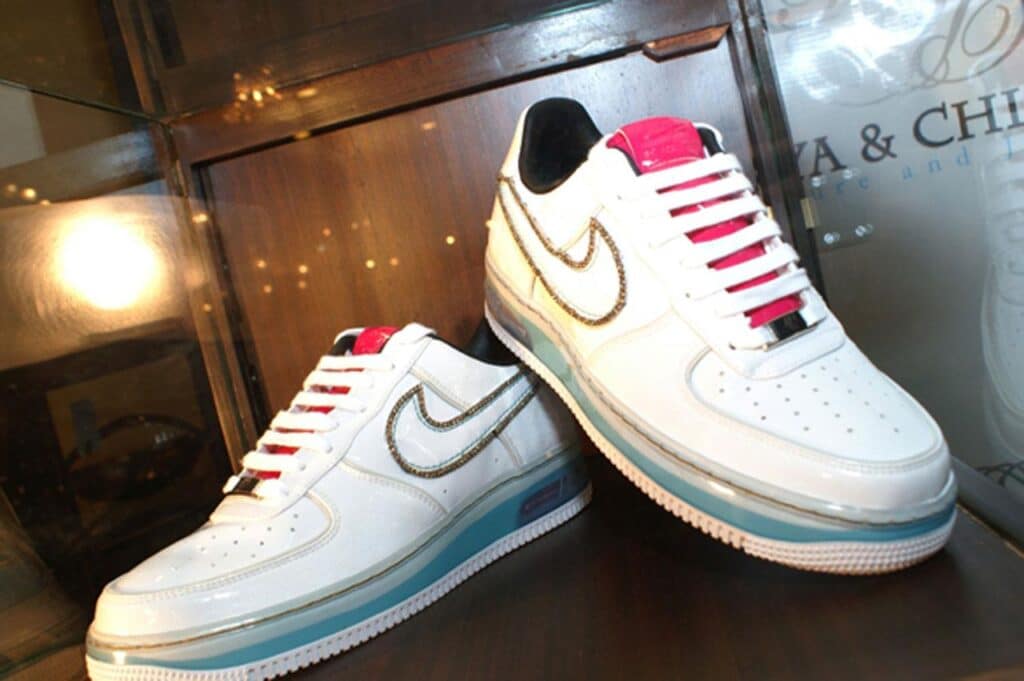 These particular Air Force One Supreme Max shoes have combined both style and function. The bright neon accent of the shoes make them easily identifiable and fun. The upper part of the shoe is made of premium leather, while the bottom portion contains reflective material. However, we think that the neon green laces are really what clinch the deal!
16. Nike Air Force One – $50,000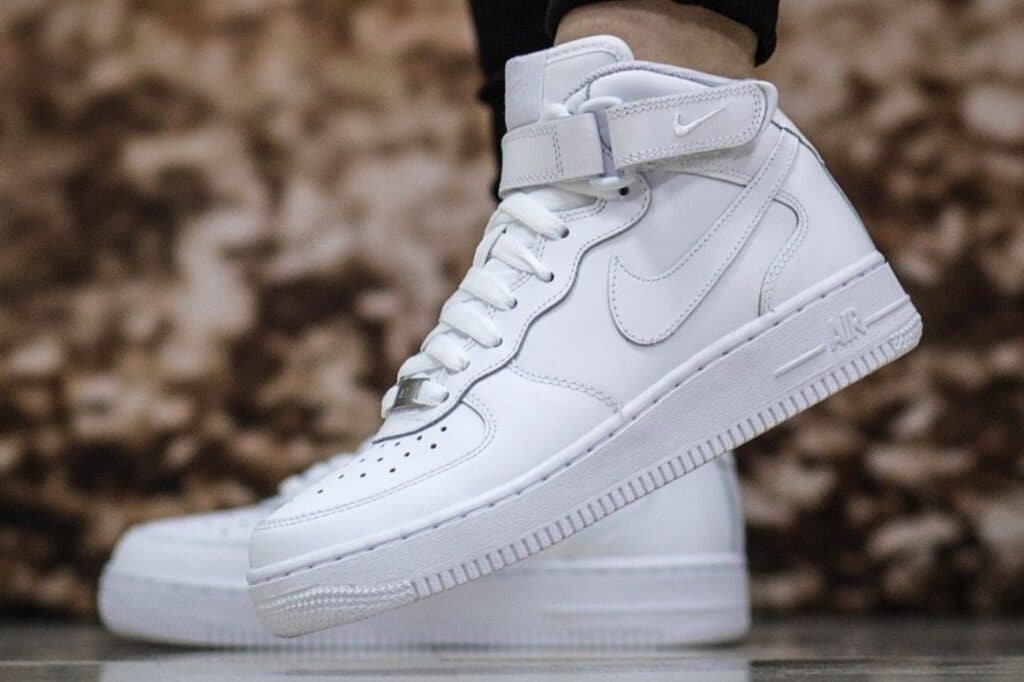 Created by Rapper Big Boi in a bid to bring together his passions for jewelry and sneakers. In typical bling-bling rapper style, the shoes are encrusted with an 11-carat champagne diamond. They can be found at the Lace Up boutique in Atlanta, Georgia – should you happen to be passing that way.
15. Autographed Nike Air Jordan 1 – $60,000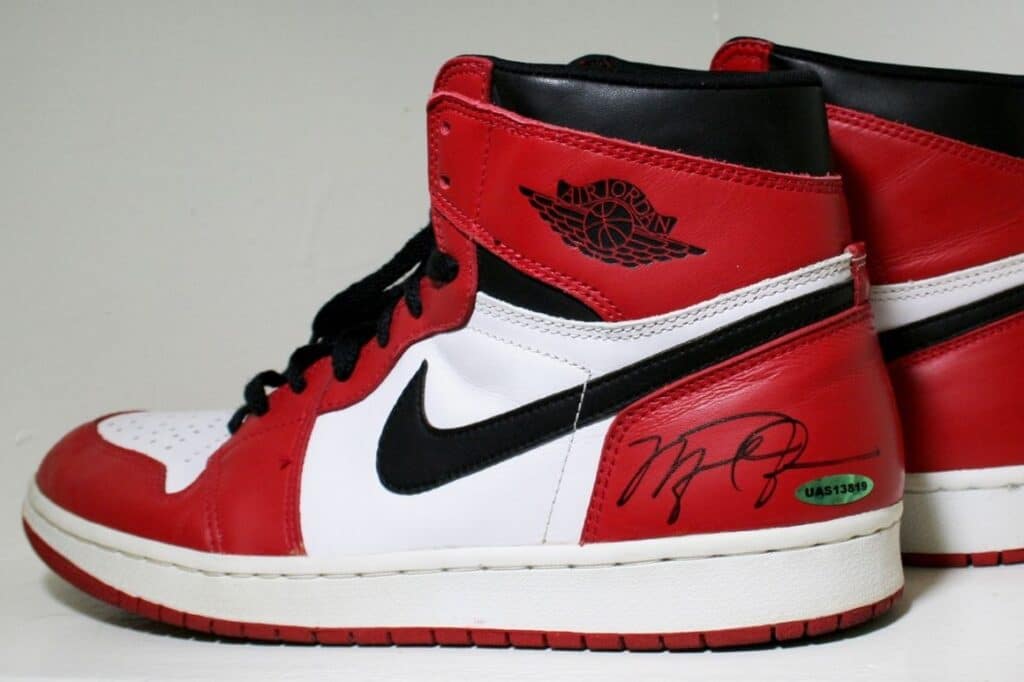 Autographed by the legendary Chicago Bulls basketball player Michael Jordan himself, these Air Jordan 1 sneakers took the internet by storm when they were auctioned on eBay. The Air Jordan 1 collection was originally released in 1985 and was designed for Nike by Peter Moore, Tinker Hatfield, and Bruce Kilgore.
14. Air Jordan Silver Shoes- $60,000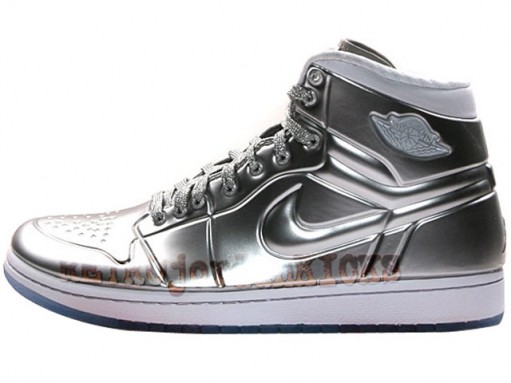 These shoes were designed for Nike by Michael Jordan and have been in high demand from his fans since they first appeared on the market. Wearable and functional, these shoes have become iconic for Nike worldwide.
13. Michael Jordan Worn Air Jordan – $104,765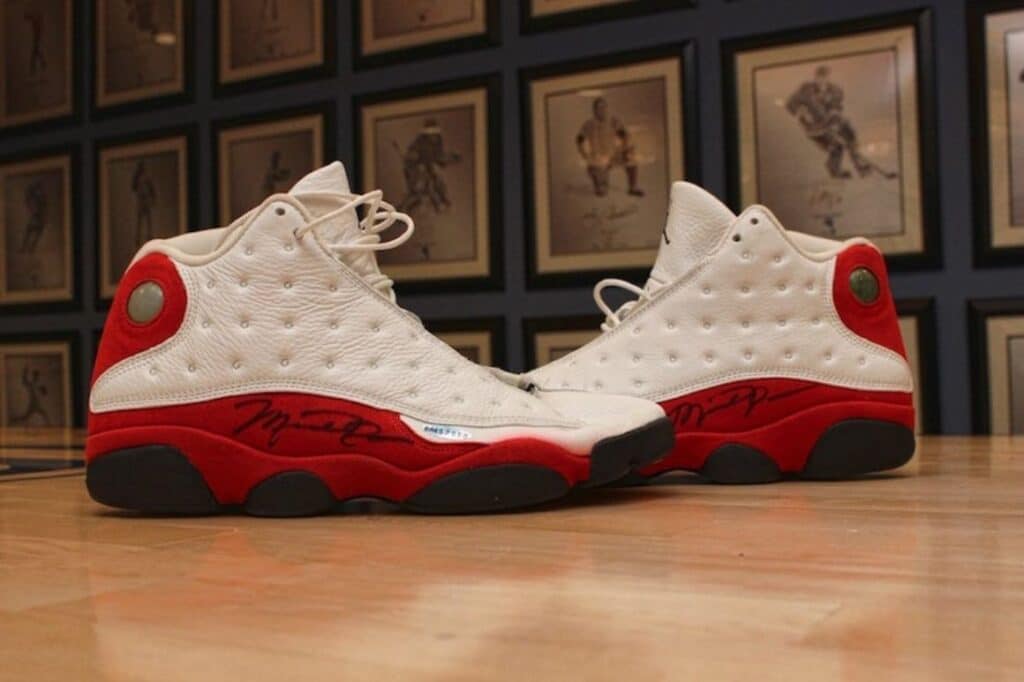 And now to some more masculine and sporty entries on our list. Legendary Michael Jordan wore these size 13 sneakers during his "Flu Game" and autographed them shortly afterwards. They were auctioned (together with Jordan's black socks) for a price tag exceeding $100,000. Not bad for a pair of used sneakers and sweaty socks.
12. Stuart Weitzman Marilyn Monroe Shoes- $1 million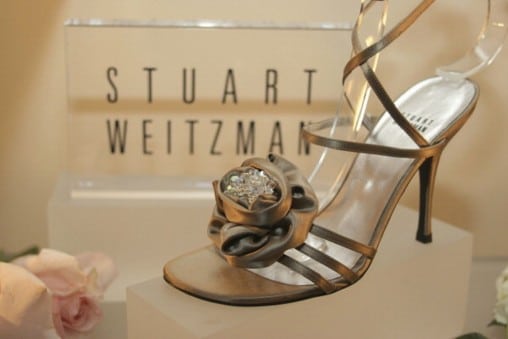 It is only natural that a pair of shoes dedicated to the ethereal Marilyn Monroe would be included in this list. The shoes are adorned by crystals which were actually worn by the legendary actress. This pair was first-seen on the feet of Regina King at the 2005 Academy Awards and was auctioned for a cool million, shortly afterwards.
11. Stuart Weitzman Retro Rose Pumps – $1 million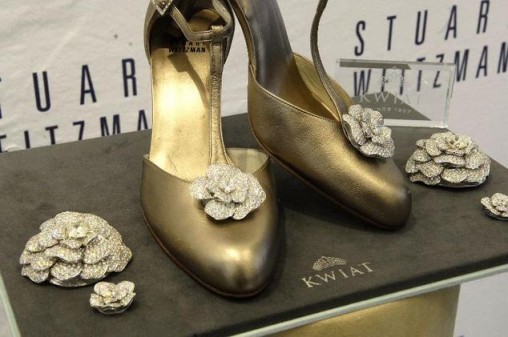 The retro appeal of this pair of T-strap shoes recall's Hollywood's monochrome days. The golden pumps are embellished with large golden roses, which alone are made of 1,800 diamonds. An additional 400 diamonds encrust the remainder of the shoes.
10. Stuart Weitzman Ruby Stilettos – $ 1.6 million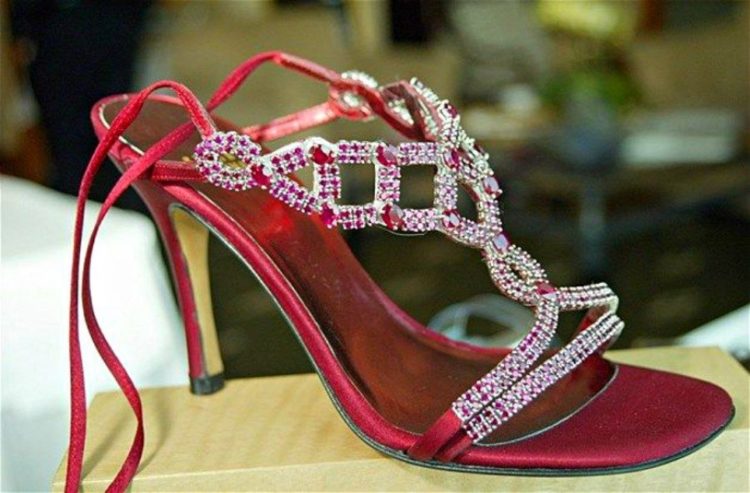 Another pair of shoes in our list inspired by Dorothy. Who knew that the girl who couldn't tell a fake wizard from a real one to save her life, was such a shoe addict? Featuring 643 rubies amounting to 123 karats, and no less than a pound of platinum, these stilettos would certainly give Dorothy (or any other girl, for that matter), something to skip about.
9. Shoes of Nizam Sikandar Jah- $ 1.6 million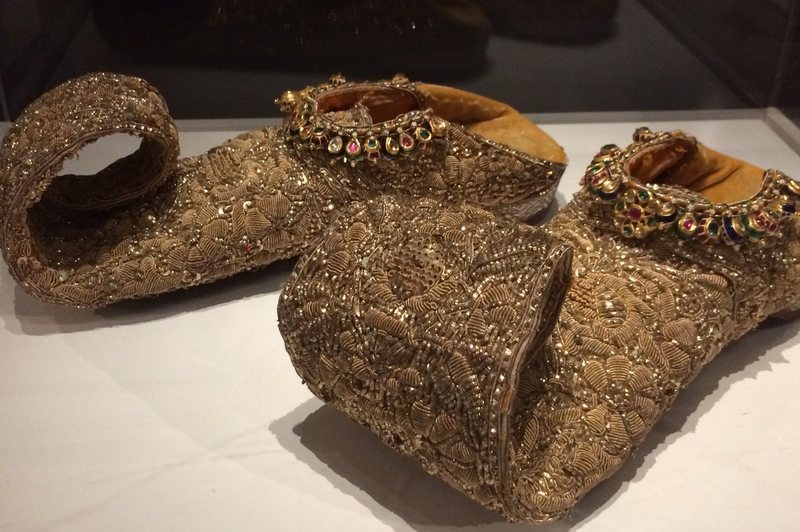 It is hard to see how this odd-looking and unfashionable pair of shoes was included in the list. This unusual entry is explained by the fact the shoes date back to the 18th century and belonged to the Nizam of Hyderabad, Sikandar Jah. The design and gold thread embroidery is typical of India in the18th century. The shoes boast diamonds, rubies and emeralds among a host of other expensive gems.
8. Stuart Weitzman Platinum Guild Stilettos- $1.09 million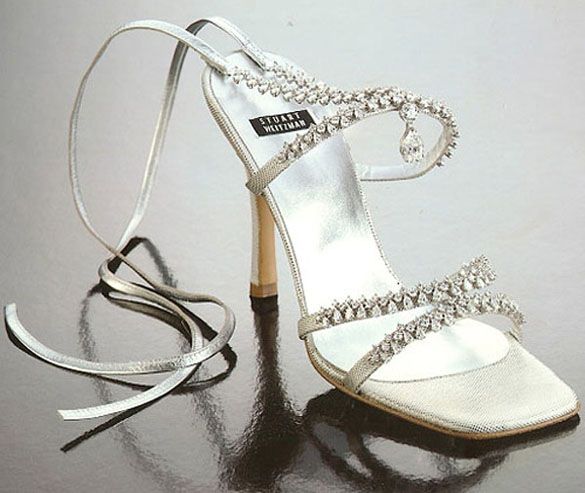 Decorated with 464 diamonds, these shoes really are to die for. In addition, the jewels adorning these shoes can be removed and worn as necklace. Talk about value for money. The shoes were first seen at the 2002 Academy Awards and have been the object of many a girl's dream, ever since!
7. Stuart Weitzman Cinderella Slippers – $ 2 million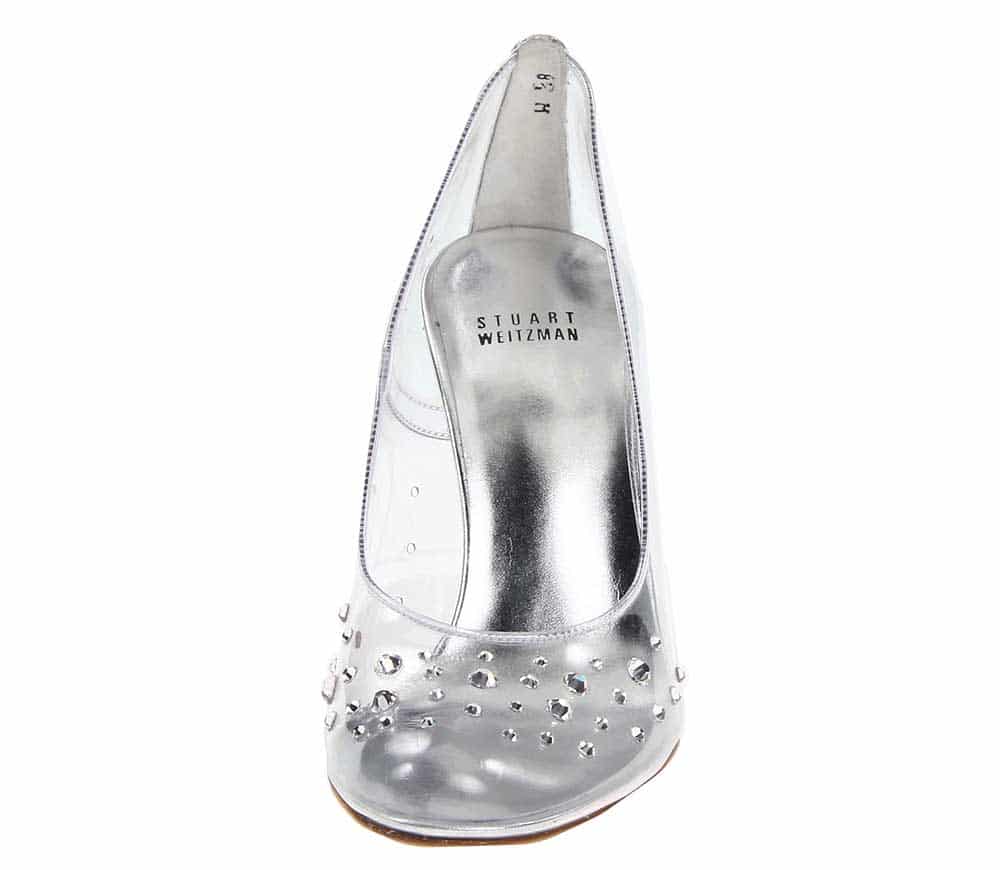 Worn by Alison Krauss at the 2004 Academy Awards, Weitzman's stunning Cindirella slippers feature some 565 diamonds set in platinum and the finest Italian leather. The laces themselves feature the rare amaretto diamond, which rakes in one million dollars all by itself. These are really the shoes that fairy-tales are made of.
6. Stuart Weitzman Tanzanite Heels- $ 2 million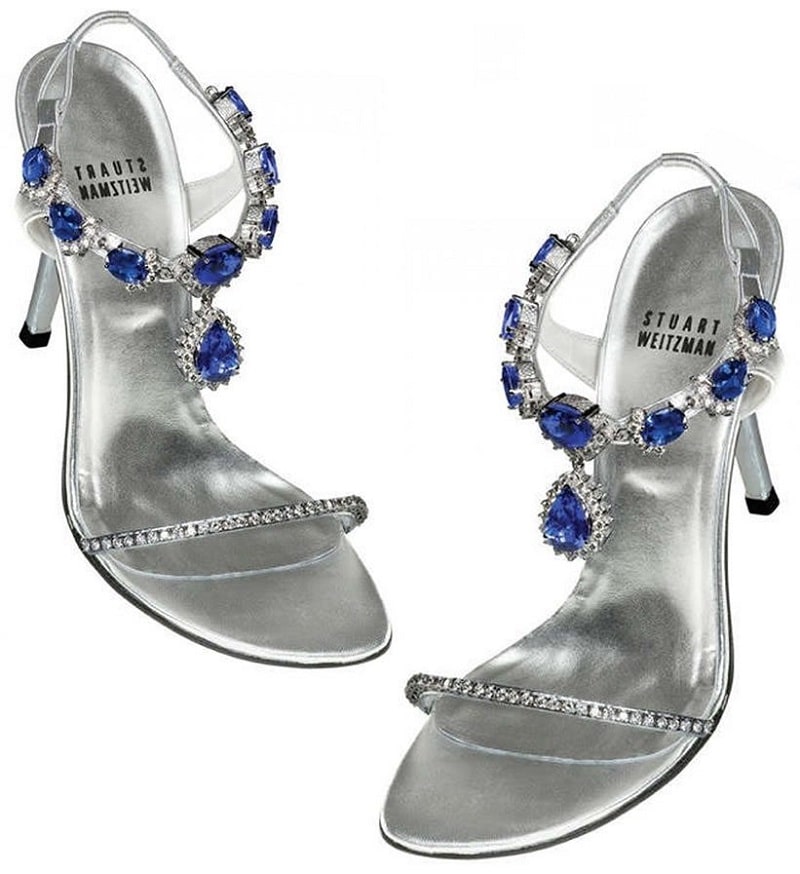 Stuart Weitzman collaborated with Eddie Le Vian to create this extraordinary pair of shoes. The delicate straps of the exquisite sandals feature no less than 28 carat of diamonds and 185 karat of tanzanite gems. The strappy sandals themselves are made of sterling silver, to give them an added edge.
5. Harry Winston Ruby Slippers – $3 million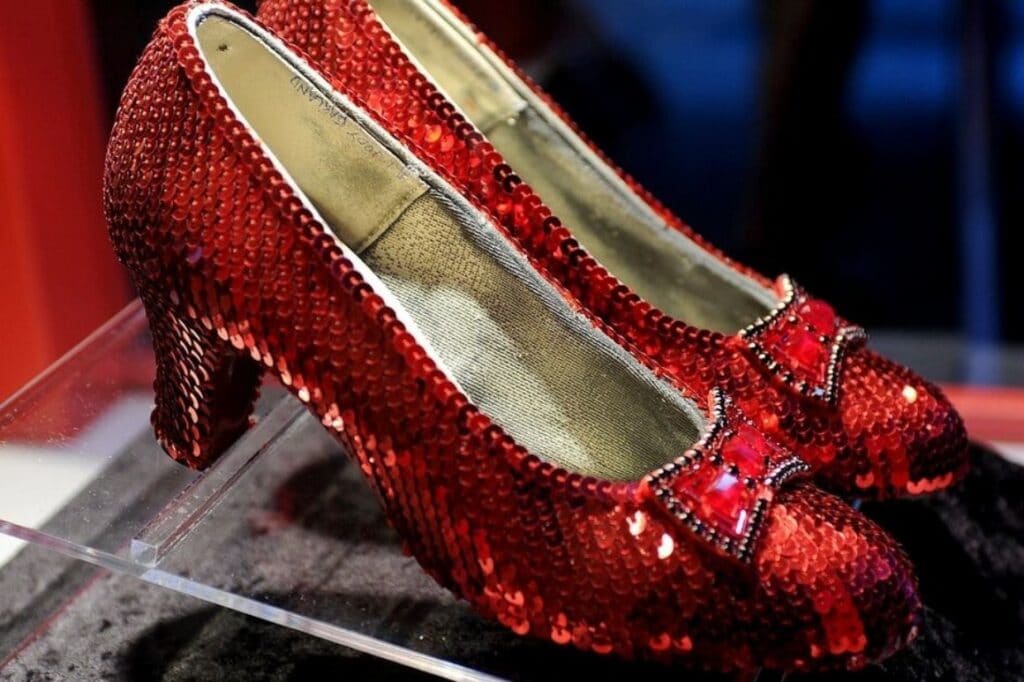 This pair of shoes is the official replica of the pair of red ruby magic shoes which Dorothy had on her way to see the Wizard of Oz. The shoes boast some 4,600 rubies and the equivalent of 50 carats of diamonds. The shoes were crafted to celebrate the 50th anniversary of the cult movie and took over two months to complete.
4. Stuart Weitzman Rita Hayworth Heels – $3 million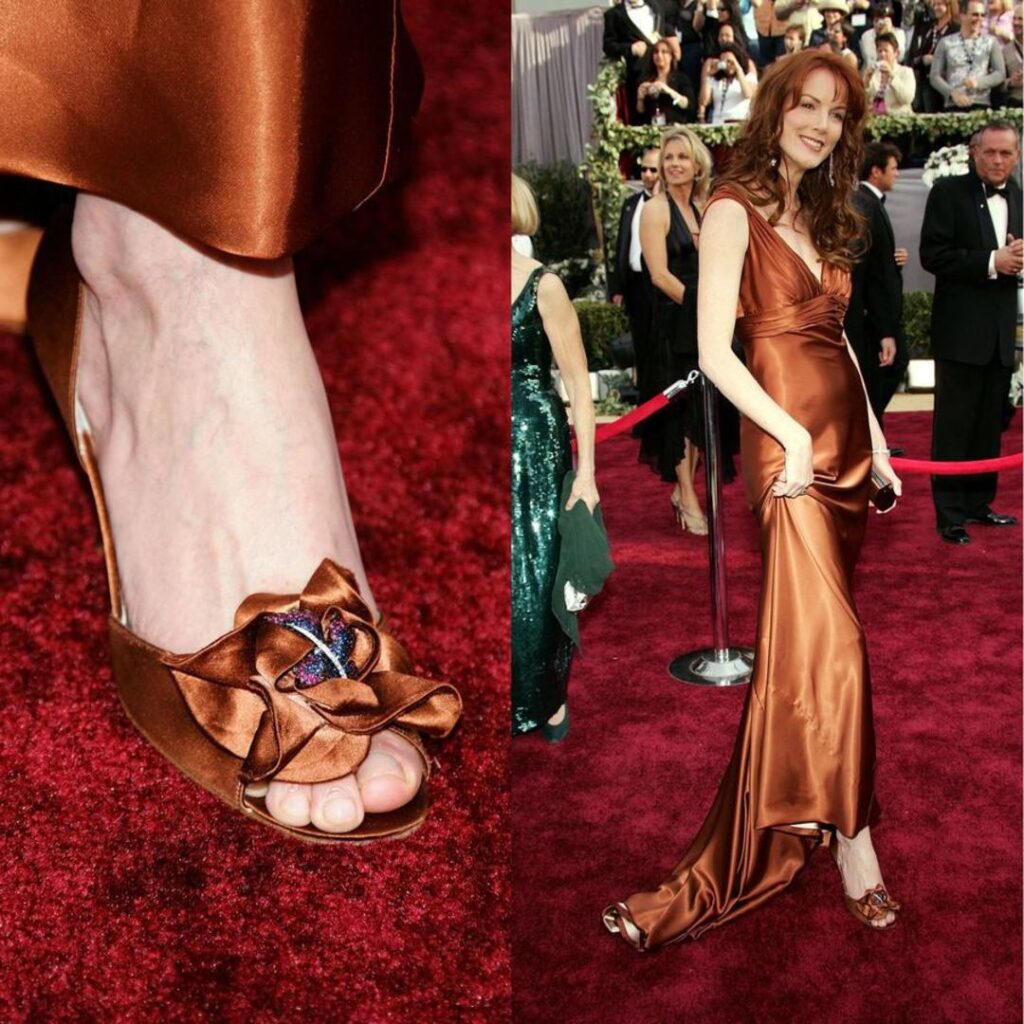 Named after silver screen siren, Rita Hayworth, these shoes incorporate a pair of earrings previously owned by the Hollywood legend herself. The rich dark chocolate colour is of the shoes is both elegant and appealing, while the flower accessories are enhanced by the earrings, which have been set in the middle of the flower design. The shoes are owned by Hayworth's daughter as something of a fashion family heirloom.
3. Kathryn Wilson's Pumps – $ 4.1 million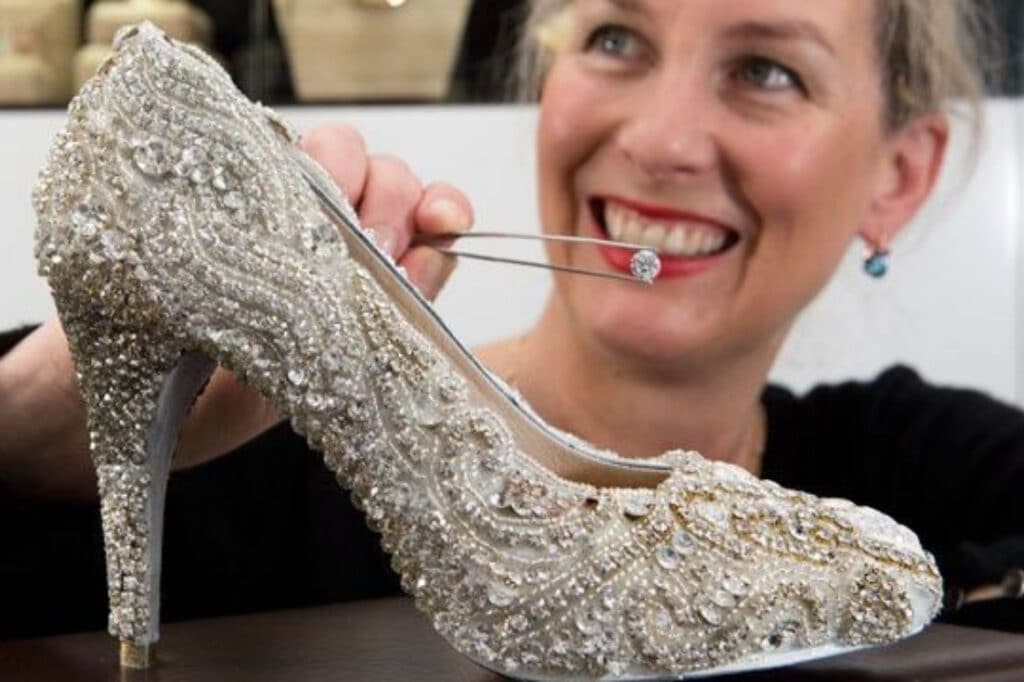 Recalling the fairy-tale pumps of Cindierally, New Zealand designer Kathryn Wilson created this pair of shoes for a charity auction. They feature millions of Dollars' worth in diamonds, with each diamond being expertly applied to the shoes by hand. No wonder this masterpiece took over 50 hours to complete. Raking in over $4 million at the auction, we say that her design effort was well worth it!
2. Stuart Weitzman Diamond Dream Stilettos – $ 5 million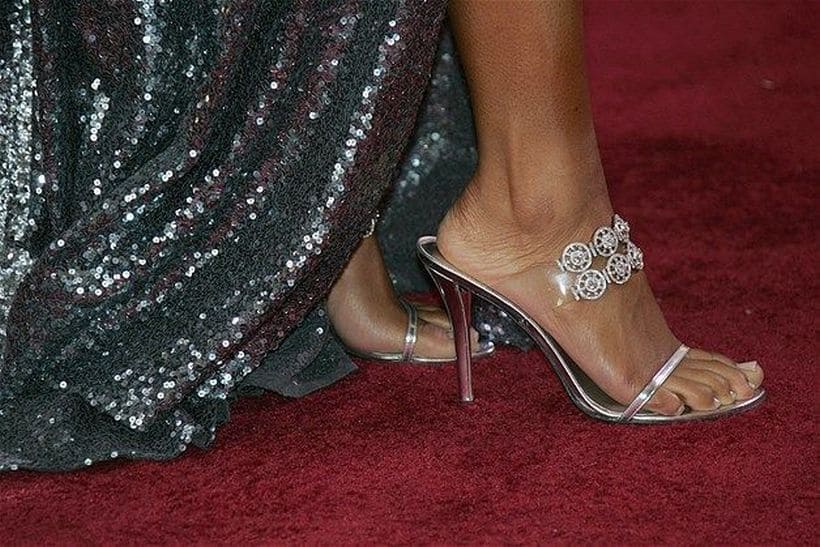 Pretty much the designer who dominates the shoe world, Stuart Weitzman is a name which will come up several times throughout this article. He may not be a household name, but then again, his shoes would never be affordable to the average household. Hi most expensive pair – the Diamond Dream Stilettos, in fact, are worth an eye-watering $5 million. Their alluring sparkle is down to the handcrafted 1,500 thirty karat diamonds. A show-stopping pair of shoes indeed!
1. Original 'Wizard of Oz' Ruby Slippers – $6.1 million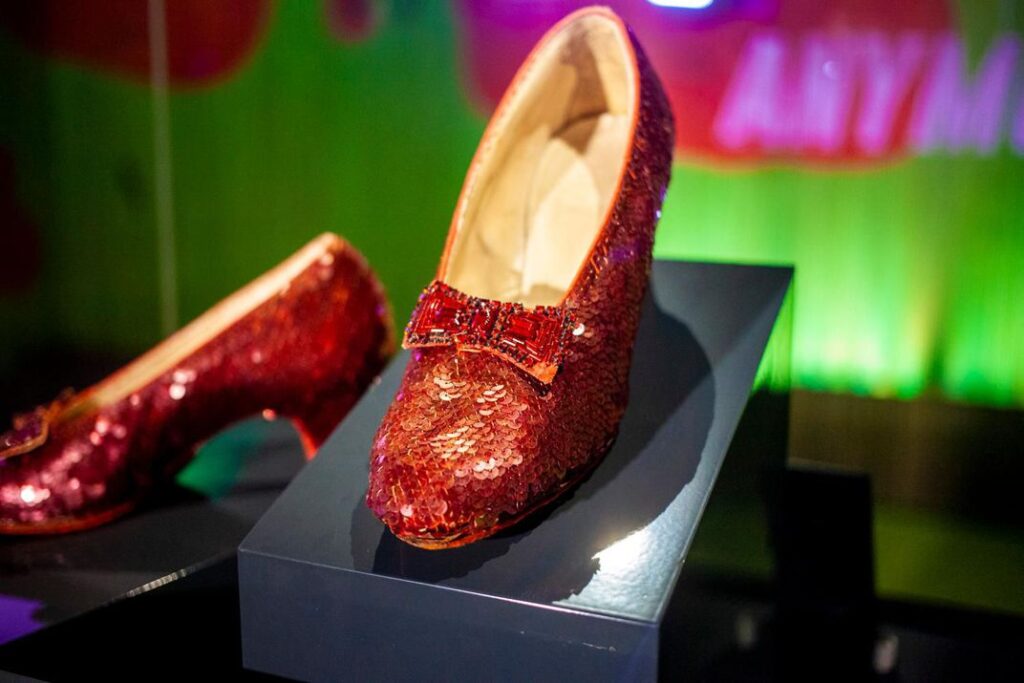 Dorothy encountered plenty of trials during her visit to Oz. Fortunately she had those sparkling red ruby slippers which had her skipping all the way down the yellow brick road. One of the three original pairs of shoes from the movie was auctioned off at a whopping $6.12 million. Another pair is on show at a Washington D.C museum. Wonder what the wonderful Wizard of Oz would say about that!